Menu
Click to display menu
Share
Click to display social links
Strategies to Address Minnesota's Freight Needs and Issues
This chapter identifies strategies to address freight system needs and issues and to seize implementation opportunities. These strategies are actions the state and its public and private sector freight partners can take to move forward, including project recommendations, policy guidance and next steps for planning. These freight project types described here will be taken under consideration by MnDOT with its public and private sector freight partners. It is not presumed that MnDOT will provide funding for all of these project types. Additional detail on plan strategies is provided in a supplemental Technical Memo – Strategies and Implementation.
What is a "Freight" Project?
One of the primary challenges in quantifying the impacts and benefits of investments in the freight transportation system is developing an understanding of what defines a "freight project." Currently, MnDOT does not specifically identify projects as freight projects, as it does with other kinds of projects (e.g., bicycle improvement projects), nor does it have a definition or standard for what constitutes a freight project. MAP-21 defines a "freight project" as:
"A surface transportation project that improves the safety and efficiency of freight movements."
Until the passage of the FAST Act in 2015, there was no nationally dedicated funding source for freight projects. However, it can be argued that almost any transportation project has some bene­fit to freight. Many of the projects on MnDOT's funded surface transportation program have substantial carry-over benefits to the freight system. For example, repaving a segment of a state highway is a general improvement project intended to benefit all vehicles. While this may not primarily be considered a freight project, freight haulers derive a wide range of benefits from this traditional transportation investment, including:
Lower operating costs since wheels, shocks, brakes, axles and other vehicle parts are subject to less abuse, thus extending their useful life
Greater fuel efficiency, and in turn, lower operating costs
Reduced damage to goods in transport and reduced insurance costs
Improved safety
More efficient movement/route since freight haulers will not have to reroute to other roadways to avoid poor pavements and the risk to damaging goods or vehicles
Reduced driver fatigue since drivers will be able to drive more direct routes at higher speeds
Reduced travel time since drivers will be able to drive more direct routes at higher speeds
Other project types such as bridge replacements, improved signage or guardrail enhancements provide their own set of freight benefits. For example, Intelligent Transportation System projects that improve travel conditions for daily commuters can significantly benefit freight by reducing travel time and related shipping costs.
The location of a highway improvement project also determines its value to freight movements. For instance, road projects on identified routes with heavy truck traffic (e.g., Minnesota's Principal Freight Network) will likely benefit freight movements more so than projects on other routes.
During outreach focused on reviewing the plan's recommendations, stakeholders were asked to prioritize where MnDOT should focus efforts and where "new freight funds" should be allocated in the future. In both cases, private industry respondents overwhelmingly noted that focus should be placed on the highway system. Bridge and Pavement Maintenance projects and Roadway Corridor Improvements are the top two infrastructure investments recommended.
For the purpose of this plan, a "freight project" has been defined as:
"A transportation project that improves the safety and efficiency of freight movements."
This definition is intended to apply to highway projects and other projects on other modal systems, which can include projects on the rail, air, water and pipeline systems that fall within the public and private sector realms of ownership and operation.
Infrastructure Investment Needs
Physical infrastructure investments are needed today on the highway and non-highway freight systems and will be required in the future. This section outlines where MnDOT is currently making freight system investments and identifies the types of freight projects that could provide benefits to Minnesota if pursued in the future. A detailed list of identified freight projects is included as part of Appendix A.
Highway System Project Types
Highway project types were evaluated to identify the investments MnDOT is currently making that may benefit freight system operations and to identify which project types MnDOT should continue investing in in the future to improve freight system operations.
The evaluation of freight project types for the highway system was based on the categories defined in the Minnesota 20-year State Highway Investment Plan 2014-2033 (MnSHIP). MnSHIP is one of MnDOT's transportation investment plans and is responsible for directing a large portion of the agency's expenditures (i.e., highway investments).1 There are currently 10 investment categories identified in MnSHIP. However, not all of these are related to freight. The categories of Pedestrian, Bicycle and Project Support were excluded. The remaining categories have a direct impact on the movement of freight on the highway system. These categories are further described below and include:
Pavement Condition
Bridge Condition
Roadside Infrastructure
Interregional Corridor Mobility
Twin Cities Mobility
Regional Community Improvement Program
Traveler Safety
Pavement Condition
MnDOT's largest and most widely used asset is its pavements. On an average day, there are more than 90 million vehicle miles traveled on Minnesota state highways. Most new pavements last approximately 20 years before deteriorating to a level that requires rehabilitation. Improved pavement conditions benefit freight by reducing the number of goods damaged in transit, improving operating and maintenance costs and reducing driver fatigue.
MnDOT preserves the structural integrity and smoothness of its pavements through investment in the Pavement Condition category. It seeks to maximize the share of state highway pavement rated in "Good" condition and minimize the share in "Poor" condition by undertaking a balanced mix of preventive maintenance, rehabilitation and replacement. Once pavements fall into Poor condition, the costs associated with effectively repairing them increase significantly. As a result, larger capital investments are necessary if MnDOT wants to achieve smooth pavement conditions and minimize the costs associated with preserving its pavements. Typical improvements to pavements include overlays, mill and overlays, full-depth reclamation, and reconstruction projects.
Bridge Condition
More than 4,500 of the state's 20,000 bridges are on the state highway system and maintained by MnDOT. If maintained and invested at optimal intervals, bridges typically last 70 to 80 years before needing replacement. Freight movers rely on bridges as critical links in their supply chains. Bridges with reduced load restrictions may require freight movers to take alternate routes which may increase costs.
The inspection, maintenance and construction of MnDOT bridges are the responsibility of MnDOT districts under the general direction of the MnDOT Bridge Office. The districts and the Bridge Office work together to identify near-term and long-range investments that preserve bridges in a safe condition and extend their useful life. By planning its bridge investments in a timely and cost-effective manner, MnDOT is able to preserve the state's vital connections.
MnDOT tracks its performance in preserving bridge infrastructure by rating the structural condition of its bridges and measuring the percentage of bridge deck area in Good, Satisfactory, Fair and Poor condition. Bridge investments are managed through MnDOT's Bridge Replacement and Improvement Management system. Typical improvements include replacement, rehabilitation and painting. The Bridge Condition category does not include surrounding or supporting elements for bridges, such as signs, pavement markings or lighting.
Roadside Infrastructure
Roadside Infrastructure condition includes an array of assets found on the Minnesota state highway system that support the safe, informed, comfortable and efficient movement of people and goods. Roadside infrastructure includes:
Drainage and culverts that carry water away from or under the road
Guardrails, including attenuators, cable-median barriers and fencing that protect people and infrastructure
Traffic signals, lighting and ITS that enhance safety and provide information
Overhead structures and other structures, such as noise walls, retaining walls, reinforced earth systems and concrete barriers
Rest areas
Signage, including traffic and directional signs
Pavement markings
Roadside infrastructure improves safety and the overall driving experience for freight movers. Improvements are often completed in conjunction with a pavement or bridge project, although MnDOT also conducts stand-alone projects, such as culvert replacement projects along segments of road with poor drainage or failing culvert structures.
Interregional Corridor Mobility
Minnesota's Interregional Corridor (IRC) system is a subset of the National Highway System, connecting the largest regional trade centers in Minnesota with each other and with neighboring states and Canada. This system consists of Greater Minnesota's most heavily traveled roads, accounting for only 2.5 percent (3,000 miles) of the state highway system, yet carrying about 30 percent of all statewide travel.
The IRC system is an essential transportation network for moving freight and supporting businesses. Safe and efficient IRC connections provide access to markets and services and facilitate recreational travel, improving quality of life. Congestion on IRCs negatively impacts travel time, reliability, safety conditions, fuel costs and the state's economic competitiveness. Typical improvements on these corridors include low-cost solutions, such as intersection improvements, and major projects, such as roadway capacity improvements.
Twin Cities Mobility
The Twin Cities area is a major freight hub with multiple origins, destinations, and intermodal facilities related to freight movement. Congestion in the metro area is a major concern of many freight movers and the general public. Managing congestion improves quality of life, safety and air quality. While the focus of MnSHIP is on identifying improvements in highway infrastructure, the Twin Cities area infrastructure accommodates many users, including passenger vehicles, freight carriers, transit providers, bicyclists and pedestrians.
Roughly half of all roadway travel in Minnesota occurs within the Twin Cities metropolitan area, which contains just 9 percent of the total roadway miles in the state. In 2015, the Metropolitan Council completed its 2040 Transportation Policy Plan. Due to constrained funding, this plan marks a shift away from a reliance on major capacity expansion projects toward more cost-effective strategies. MnDOT now pursues the following strategies to address regional mobility issues:
Active Traffic Management. Operational improvements to help manage the effects of congestion, including variable message signs (traveler information systems), freeway ramp metering, dynamic signing and re-routing, dynamic shoulder lanes, reversible lanes, dynamic speed signs and lane specific signaling.
Spot mobility improvements. Lower cost, high-benefit projects that improve traffic flow and provide bottleneck relief at spot locations. These projects include freeway and intersection geometric design changes, short auxiliary lane additions and traffic signal modifications to ease merging and exiting traffic.
Priced managed lanes. Priced managed lane projects that provide a predictable, congestion-free travel option for transit users, those who ride in carpools, or those who are willing to pay. In the Twin Cities, the system is called MnPASS and currently operates on I-394, I-35E and I-35W. During rush hour periods, MnPASS lanes are free for buses, carpools and motorcycles; single-occupant vehicles are charged an electronic fee.
Strategic capacity enhancements. Projects in the form of new interchanges, non-priced managed lanes and limited general-purpose lanes that may be needed to address corridor congestion and/or provide lane continuity for an existing facility or to complete an unfinished segment of the Metropolitan Highway System. The unfinished connection between existing MN 610 and I-94 in Maple Grove is an example of a high-priority strategic capacity enhancement project.
Regional Community Improvement Priorities
Regional and Community Improvement Priorities (RCIP) are collaborative investments that respond to regional and local concerns beyond system performance needs. The RCIP investment category assists MnDOT in delivering a well-rounded transportation investment program that advances objectives for which MnDOT may not have statewide performance targets, such as improving multimodal connections, community livability, economic competitiveness, environmental health and quality of life in Minnesota.
Typical improvements include intersection improvements that increase traffic flow or facilitate efficient freight movement, projects that support multimodal connectivity, bypass or turning lanes, access management solutions, improvements that support Complete Streets, and regional or spot capacity expansion projects.
Traveler Safety
Vehicle crashes are the leading cause of death for people under the age of 35 and the fifth leading cause of death overall in the nation. Crash-related deaths and serious injuries create significant costs for individuals, families, and society. The Highway Safety Improvement Program (HSIP) is a federal program that was established in 2005 to fund programs that reduce fatalities and serious injuries on all roads. In Minnesota, these funds are distributed among MnDOT districts and local agencies. HSIP and state funds together represent MnDOT's Traveler Safety investments. MnDOT and its partners have made reducing fatalities and serious injuries a top priority through the following:
The Toward Zero Deaths (TZD) initiative. MnDOT and its partners use a data-driven, multi-disciplinary "four Es" approach – education, engineering, enforcement, and emergency services – to target and reduce fatalities and serious injuries. The TZD approach has contributed to Minnesota's dramatic decline in traffic fatalities over the past decade.
Proactive lower cost, high-benefit safety features. Lower cost safety improvements may be newly installed as part of a pavement project, including edge treatments (rumble stripes and rumble strips), guardrail and pavement markings, or as stand-alone projects. MnDOT has also developed District Safety Plans (DSPs) for each MnDOT district. The DSPs refer to crash data to prioritize proactive strategies at high-risk locations and identify appropriate treatments that are proven to reduce fatal and serious injury crashes. They also serve as the engineering component to the TZD initiative.
Improvements at sustained crash locations. These are locations with a consistently high crash rate over a five-year period compared to similar locations across the state. Improvements at these locations tend to be higher-cost intersection improvements and can be targeted for motorized and non-motorized modes. Projects in this category include improvements such as roundabouts and passing lanes.
Typical improvements in the Traveler Safety category include lower cost, high-benefit engineering solutions, such as rumble stripes, lighting, signage, new cable median barriers, and dynamic warning signs. MnDOT uses higher cost treatments, such as four-way stop signs, signals and reduced conflict intersection improvements (for example, roundabouts, median refuges, and J-turns), to address sustained crash locations.
While the investment categories included in MnSHIP do not specifically identify freight, many of the outcomes from investments made in these investment categories provide significant benefit to freight movements. Examples of this include smooth pavements, which provide lower operating costs, greater fuel efficiency, less damage to goods and improved safety; or improvements to critical connections, which will decrease delays and reduce travel times. Traveler safety improvements likewise reduce the frequency and severity of crashes, simultaneously decreasing risk and delay. All of these improvements have significant benefits for freight.
Highway Projects on Minnesota's Principal Freight Network
The State Transportation Improvement Program (STIP) is Minnesota's four-year transportation improvement program developed by MnDOT with approval from the FHWA and the Federal Transit Administration. The STIP is the statewide transportation program in which MnDOT, local governments and community and business interest groups work together in eight District Area Transportation Partnerships to discuss regional priorities and reach agreement on priority transportation investments. It incorporates the Transportation Improvement Programs (TIP) developed by the state's metropolitan planning organizations by reference, without modification. Like the STIP, each TIP provides a prioritized list of projects for which federal, state and, in some cases, local funds are anticipated to be used.
The STIP identifies the schedule and funding of transportation projects by state fiscal year (July 1 through June 30). It includes all state and local transportation projects with federal highway and/or federal transit funding along with 100 percent state funded transportation projects. These projects are for state trunk highways, local roads and bridges, rail crossings and transit capital and operating assistance. The STIP is developed/updated on an annual basis.
The STIP for fiscal years 2015-2018 was approved in October 2014 and contains information such as project location/description, agency responsible for project implementation, program categories, funding categories and project cost. This project list was reviewed to better understand the level and type of investments that are programmed for the highway portion of the designated Minnesota Principal Freight Network, defined as the extents of the National Highway System. Of the $3.9 billion allocated to infrastructure improvements, approximately 60 percent is programmed for projects on the NHS system.
The STIP includes two fields that categorize the primary and secondary work types of each project. The work type descriptions were used to guide the determination of the appropriate MnSHIP investment category for each project. The results of this analysis are shown in Figure 4.1, which displays the relative investment within each category toward NHS and non-NHS roadways.
Figure 4.1 - STIP Funding by MnSHIP Investment Category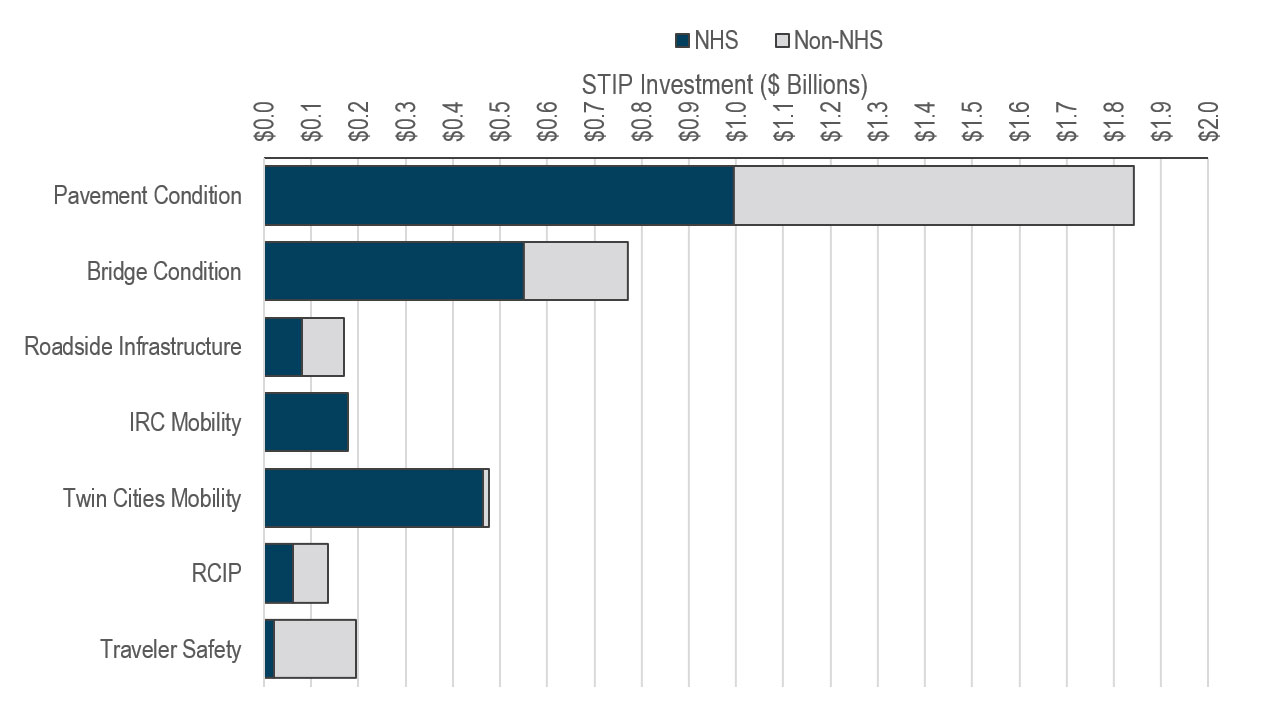 • Communication, navigation or surveillance systemsSource: 2015-2018 Minnesota STIP
The results show that investment in Pavement Condition greatly exceeds the investment in any other category. Pavement Condition projects account for approximately 47 percent of infrastructure-related STIP funding. More than half of these investments are slated for roadways on the NHS.
Since all IRC roadways are also on the NHS, all investments under the IRC Mobility category are on the NHS. NHS investments also account for the majority of projects under Bridge Condition and Twin Cities Mobility and approximately half of the projects under Roadside Infrastructure and RCIP. Unlike the other categories, investments under the Traveler Safety categories are primarily on non-NHS roadways.
A subset of this list represents the freight projects identified in the STIP. This list is included in Appendix A and in the Strategies and Implementation Technical Memo. A freight project is defined as a project on the NHS network (which is part of the Minnesota Principal Freight Network) with its primary designation as one the project types described in the previous section. A total of 436 projects meet these criteria.
A summary of the freight-related investments on the NHS by District is shown in Figure 4.2 and mapped in Figure 4.3.
Figure 4.2 - STIP Freight Project Funding by District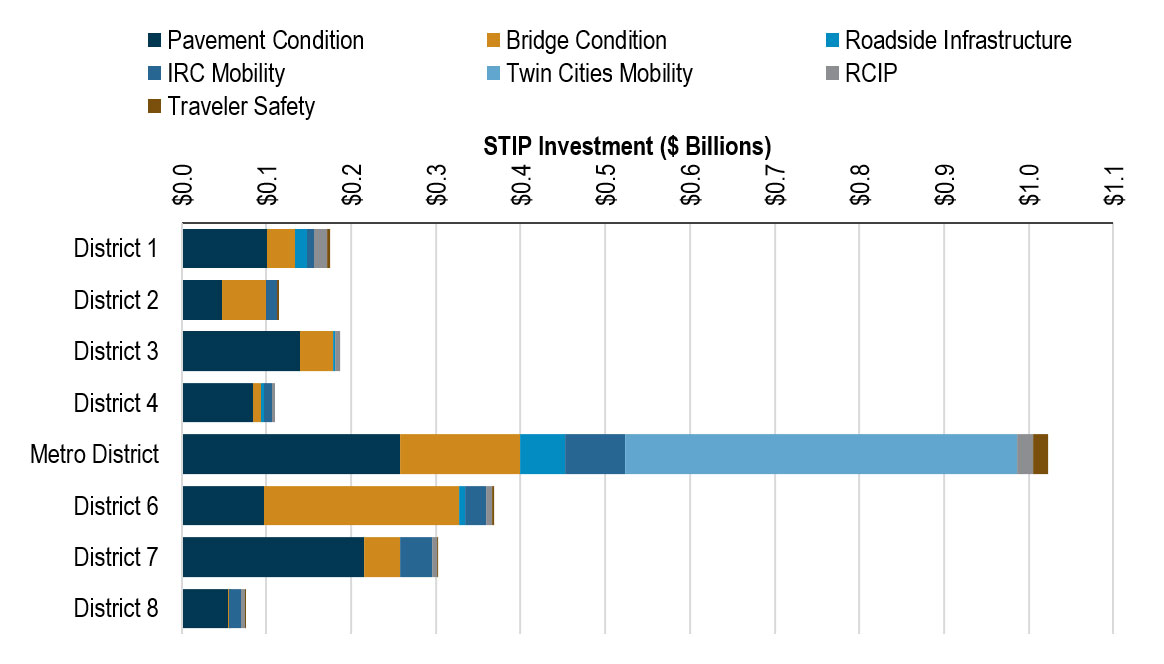 Source: 2015-2018 Minnesota STIP
A review of the funding for freight-related STIP projects on the NHS shows that the greatest amount of investment is planned for the Metro District. This is to be expected as the roadway traffic in the Twin Cities metropolitan area accounts for roughly half of all roadway traffic statewide. The Twin Cities Mobility funding category is also unique to the Metro District and accounts for nearly half of all freight project funding in the district.
Project funding in non-Metro districts is almost entirely dedicated to either Pavement Condition or Bridge Condition. While most of these districts dedicate more funding to Pavement Condition, two exceptions are District 2 and District 6, both of which have a substantially larger share of bridge condition projects relative to their total funding levels.
Figure 4.3 - Freight-Related STIP Projects on the NHS Network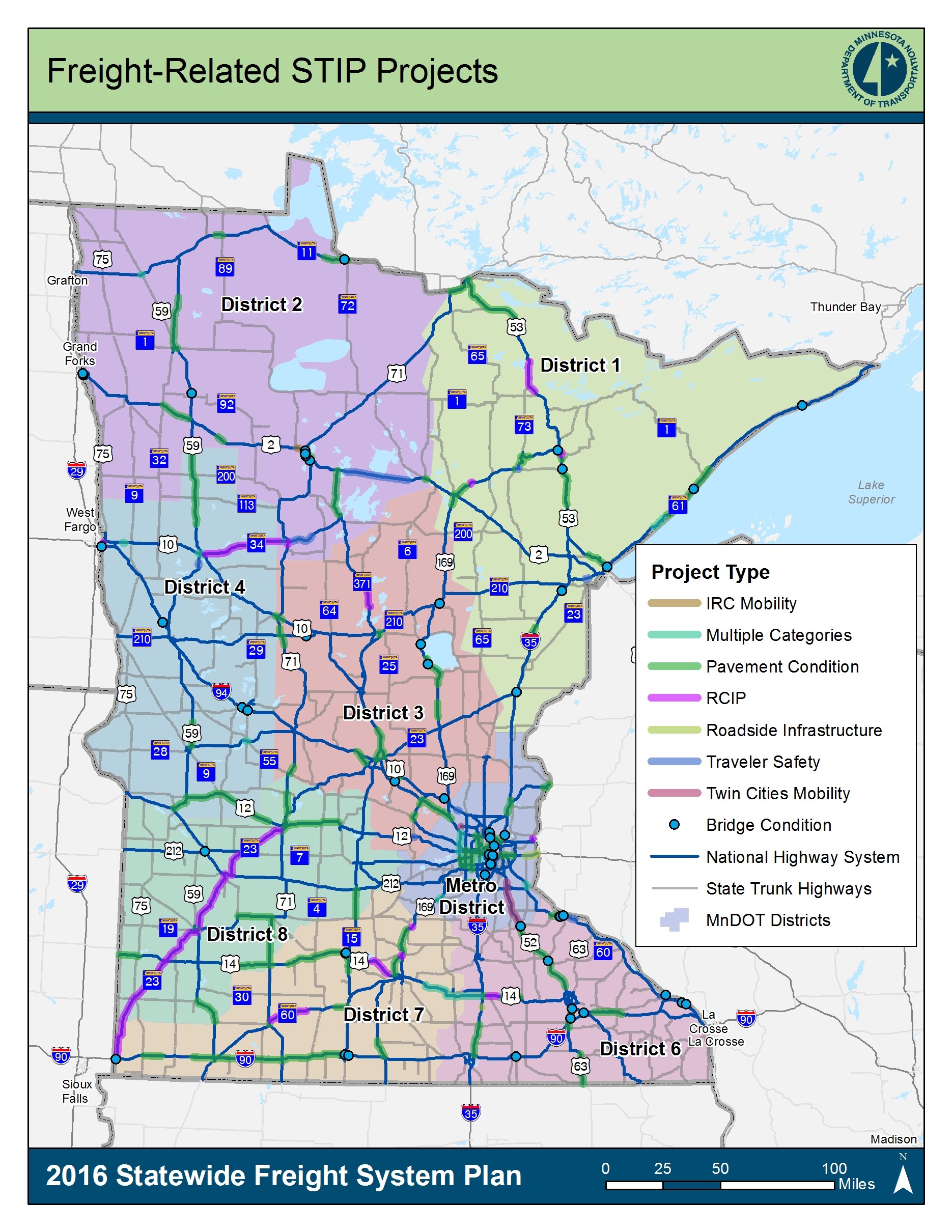 Non-Highway System Investments
This section provides a summary of the currently proposed investments for the non-highway portions of the freight system. One mode that is not included in this section is pipelines. The pipeline system is privately owned and operated. MnDOT plays only a small role in the development and oversight of the pipeline system.
Rail
The 2016 Minnesota State Rail Plan presented a $6.6 billion, 20-year project list, with $3.5 billion for freight rail-specific projects. In total, there are 62 freight projects (totaling $3.1 billion) and 45 crossing safety projects (totaling $441 million) identified, along with 57 passenger projects (not included here). Recommended freight project types include:
Track Condition/Capacity. Projects focused on rail line condition and include projects that upgrade track or bridge condition, realign existing track or add new track.
Efficiency/Chokepoint. Projects where system efficiencies are lacking due to a physical system bottleneck or other capacity constraint. This includes new sidings or interchanges or improvements in and around rail yards.
Signalization. Projects to upgrade signals on rail lines carrying high volumes of freight traffic. Centralized traffic control is typically found on medium- to high-density rail lines and involves a series of interlockings that are controlled by a single operator that signals trains when they have the right of way to proceed.

Although not included specifically in the list of freight rail projects, Positive Train Control (PTC) upgrades are also part of the Rail Plan. The Rail Safety Improvement Act of 2008 mandated the widespread installation of PTC systems by December 2015 on all lines handling passenger trains or hazardous materials.
Grade Crossing Upgrades or Separations. Projects to upgrade grade crossing infrastructure or installing grade separations are necessary at a number of highway-rail crossings in Minnesota to achieve safety goals, including reduced crashes and mitigating challenges of shale oil and hazardous material transport. MnDOT continues to invest in grade crossing upgrades; however, many of the currently installed warning devices will need replacement by 2030 due to age and out-of-date technology.
The list of recommended freight rail projects identified is included in Appendix A and the Strategies and Implementation Technical Memo. Due to the fact that rail serves both freight and passenger travel in Minnesota and that rail infrastructure, while owned and operated by private entities, provides significant benefits to the state and general public, many of these investments presume the need for multiple actors, methodologies and years. Unlike the funded highway projects under MnSHIP, a range of financing tools is needed among the public sector stakeholders—federal, state and regional/local—and the private sector, including railroads and investor/developers, to advance these projects. State general fund and bond proceeds are dedicated to the existing freight and safety programs. Minnesota counties and their Regional Railroad Authorities have committed significant local funding from both general funds and special purpose tax levies to advance these projects and support ongoing rail operations. Exploration of new funding opportunities are necessary to move rail development forward.
Ports and Waterways
The Minnesota State Legislature funds the Port Development Assistance Program to address port needs. From 1996 to 2015, the program was allocated $30 million. Past projects included rehabilitation of roads or railways or improved truck access to ports; dock walls; building roofs; sprinklers and electrical systems; mobile handling equipment; and increased warehouse capacity. The ports have identified close to $45 million of future development needs.
The 2014 Statewide Ports and Waterways Plan identifies several strategies that may result in future investment. One strategy is improving infrastructure conditions and expanding capacity. To do this, MnDOT will work to have a stable Port Development Assistance Program and compile an infrastructure needs assessment. Strategies such as assisting with adapting to new markets, adding capacity for containerization and upgrading outdated systems to reduce maintenance costs support port infrastructure.
Another issue of growing importance is preservation of waterfront land. This is especially true for land that has strategic importance for the marine freight system in existing and new locations. Multimodal connections are also an important factor in creating an efficient freight system.
Over the last five years, the legislature has appropriated the following amounts to the Port Development Assistance Program: 2012, $4 million; 2014: $2 million; 2015: $3 million. Entities that are eligible for the program then compete for those funds. The legislature usually requires that any improvement made must be publicly owned.
The current investments being pursued in the port and waterway system are discussed below.
Duluth Seaway Port Authority
The Duluth Seaway Port Authority used MnDOT appropriations, a $10 million TIGER grant from the federal government, and an almost $1 million grant from the Minnesota Department of Employment and Economic Development to redevelop DSPA's Docks C and D. This 28-acre site has been unusable due to its deteriorated state. It will expand the Duluth Seaway Port Authority's capacity.
Red Wing Port Authority
In recent years, there has been an increase in the number of riverboats that visit Red Wing. The Red Wing Port Authority applied for Port Development funds to construct a dock for improved riverboat passenger embarkation adjacent to Levee Park.
St. Paul Port Authority
The St. Paul Port Authority received additional Port Development funds to expand upon an existing project to replace 790 feet of dock wall. The new project will expand the replacement to approximately 1,100 feet.
Port Authority of Winona
The Port Authority of Winona is using Port Development funds to prevent bolt breakage at one of their commercial docks by installing an 8,000 square foot concrete cap and creating a 1,200 square foot "Heavy-lift Zone." This will accommodate the heavy loads using cranes of up to 300 tons.
Airports
Minnesota has 97 airports listed in the FAA's National Plan of Integrated Airport Systems (NPIAS). Currently, eight airports are identified in the NPIAS as primary airports. The 2013 Minnesota State Aviation System Plan estimates the need for $712 million in short-term projects, $326 in mid-term projects, and $1.1 billion in long-term projects for the aviation system. Of the estimated costs, 40 percent are for improvements to the airports and 22 percent are for miscellaneous costs. However, the plan does not currently distinguish projects as significant to freight or passenger travel.
Of the Minnesota airports, five were identified as meeting the criteria for designation as part of Minnesota's Principal Freight Network. The Minnesota State Aviation System Plan also identified upgrades for each of these airports. This information helps guide MnDOT's Capital Improvement Plan (CIP). These CIP projects are outlined below.
Minneapolis-St. Paul International Airport
The Minneapolis-St. Paul International Airport is Minnesota's largest airport. Over the next 22 years, the airport has $63.6 million worth of projects listed in the CIP. Of that total, $44.4 million will be from local funds, $13.8 million from the FAA and $5.4 million from the state. Of the 39 projects listed, 37 may have direct positive impacts on freight. Any project that specifically dealt with passenger operations (e.g., passenger terminal expansions, passenger bridge repairs, etc.) was not considered a freight project. Projects include runway pavement improvements, drainage improvements and miscellaneous construction projects.
Duluth International Airport
The Duluth International Airport identified $81 million in projects for the next 20 years. Of that total, $8.9 million will be from local funds, $67 million from the FAA, $1.4 million from other funds and $4 million from the state. Of the 50 projects listed, 48 may have a direct positive impact on freight. Projects range from runway improvements, snow removal equipment, renovations to the Air Traffic Control Tower, land acquisition, hanger maintenance and reconstruction of a runway.
Rochester International Airport
The Rochester International Airport identified $38 million in projects for the next 15 years. Of that total, $4 million will be from local funds, $18 million from the FAA, $6.3 million from other funds and $9.7 million from the state. Of the 21 projects listed, 19 may have a direct positive impact on freight. Projects include runway improvements, navigation systems upgrades and equipment replacement.
Bemidji Regional Airport
The Bemidji Regional Airport identified $24 million in projects for the next 14 years. Of that total, $1.6 million will be from local funds, $21 million from the FAA and $1.4 million from the state. Of the 63 projects listed, 61 projects may have a direct positive impact on freight. Projects include runway maintenance, snow removal equipment, hanger upgrades and road improvements.
Thief River Falls Regional Airport
The Thief River Falls Regional Airport identified $20 million in projects for the next 18 years. Of that total, $2 million will be from local funds, $15 million from the FAA, $1.2 million from other funds and $1.1 million from the state. All of the 42 projects listed may have a direct positive impact on freight. Projects include runway maintenance, hanger construction, runway extension and storm water management.
The previous sections identified various freight project types that MnDOT is currently investing in or that have been identified as being freight-related or freight benefitting as part of this plan. These freight project types are consolidated here for MnDOT's future consideration of support, partnership and advocacy with its public and private sector freight partners. It is not presumed that MnDOT will provide funding for all of these project types.
These projects are also included here as a step toward preparing MnDOT for eligibility for future freight project funding through the FAST Act. While this plan does not provide a prioritized list of freight projects, it does identify what types of projects MnDOT may consider a freight project. These projects could then be eligible for federal funding.
Projects have been roughly categorized into three groupings that align with Statewide Multimodal Transportation Plan objectives:
Asset Management. Projects that focus primarily on the maintenance and/or reconstruction of existing infrastructure.
Critical Connections. Projects that increase the capacity and performance of key freight system connections.
Traveler Safety. Projects that improve safety for all users of the transportation system.
The following list provides various types of freight projects and freight benefitting projects for each project category described above.
Highway Projects
Asset Management
Pavement condition
Bridge condition
Roadside infrastructure (signage, guardrails/barriers, rest area upgrades)
Critical Connections
Two to four lane conversions
Interchange improvements
MnPASS Lanes
Metro Congestion Management Program
First-/last-mile roadway improvements
Interchanges
Intersection upgrades
Safety
Safety program projects
Intersection upgrades
Improved lighting
Signage
Ports and Waterway Projects
Asset Management
Dredging
Dock wall maintenance
Miscellaneous construction
Critical Connections
First-/last-mile roadway improvements
Intermodal and multimodal facilities
Dock expansion
Warehouse expansion and mobile handling equipment investments
Airports
Asset Management
Airfield infrastructure improvements, including runway, taxiway, or apron pavement condition or expansion
Air traffic control tower reconstruction
Miscellaneous construction
Critical Connections
First-/last-mile roadway improvements
Air cargo facilities
Safety and Security
Communication, navigation or surveillance systems
Rail Projects
Asset Management
Rail/bridge condition improvements
Capacity enhancements
Critical Connections
First-/last-mile roadway improvements
Intermodal and multimodal facilities
Improvements in and around rail yards
Safety and Security
Signalization – Centralized traffic control and Positive Train Control
Grade crossing infrastructure upgrades or separation
Again, this list is provided to give an indication of the various types of freight projects and freight benefitting projects. It is not presumed that MnDOT will be the sole funder of freight projects nor provide funding for each of these types.
Supporting Strategies and Actions
Since physical infrastructure projects alone will not be sufficient to address the needs and issues identified in this Plan, this section outlines the supporting strategies that were developed to help achieve the goals of this plan. This section describes these strategies and supporting actions, which are organized by the 2012 Statewide Multimodal Transportation Plan objective areas:
Accountability, Transparency, and Communication
Transportation in Context
Critical Connections
Asset Management
Traveler Safety
System Security
The Freight Action Agenda in Chapter 5 provides a summarized list of each action, timeframe for implementation, and leading and supporting agencies. Additional information on how these strategies help meet plan goals is presented in the supplemental Technical Memo – Strategies and Implementation.
The objectives and subsequent strategies/actions identified on the following pages are listed in no particular order. Their order is not meant to indicate priority; all are critical focus areas for the coming years.
Accountability, Transparency, and Communication
The importance of accountability, transparency and communication to the transportation decision-making process is recognized and supported in state and federal legislation. There are also specific requirements for state departments of transportation and Metropolitan Planning Organizations related to public involvement and collaboration. This plan engaged public and private freight stakeholders as an important resource in identifying needs and determining next steps. A key next step, implementing Minnesota's Freight Action Agenda, also relies on the continued communication and coordination of activities with these stakeholders and agencies and making information available to them in a manner that is easy to find and understand.
Strategies
1 - Education
Freight touches every Minnesota resident on a daily basis. Products purchased in a store or online are available because freight transported them to retail outlets and distribution centers. Unfortunately the public is often most familiar with the negative impacts of freight, and not the improved quality of life and access to goods that come because of freight. MnDOT has started sharing information on the importance of freight as part of developing this plan. The public must continue to be educated on Minnesota's Freight Story: the critical role freight plays in the economy and everyday life of Minnesotans.
Action. Educate the public on the importance and benefits of freight to Minnesota and Minnesotans
2 - Partnerships
As evidenced by the engagement process undertaken during developing this plan, there are numerous stakeholders in Minnesota's freight transportation system. These stakeholders represent the planners, owners, operators, users and funders of the system, in Minnesota and across state borders. Partnerships can be formal (as noted in the Ongoing Freight Forum section below) or informal. The intent of the partnerships is to ensure that a regular dialogue occurs and that MnDOT has the opportunity to listen to and understand freight stakeholder perspectives. When mutual understanding is achieved, opportunities for working together to address common needs and issues arise. These partnerships can lead to collaboration on education (noted above), planning and investing. As projects of regional and national significance begin to receive federal funds, Minnesota's partnerships with its public and private sector freight stakeholders will be critical.
Action. Partner with public and private sector freight stakeholders in Minnesota and neighboring states. See Ongoing Freight Forum.
3 - Ongoing Freight Forum
Parallel to Plan development, MnDOT, in partnership with the University of Minnesota's Center for Transportation Studies, convened an Ad Hoc Working Group to explore the existing structure and role of the Minnesota Freight Advisory Committee (MFAC). Historically, this group had been convened to facilitate an ongoing dialogue between public and private sector freight stakeholders to keep freight topics "front and center" and to hear private sector perspectives. Through Ad Hoc Working Group discussions it was determined that the MFAC should continue but be given a defined mission, which includes:
lMonitor and report on the implementation of the Minnesota Statewide Freight System and Investment Plan and its Action Agenda, including the development of recommendations for any revisions and updates to the plan
Create an annual report for the MnDOT Commissioner that includes a "state of freight," an overview of trends and important issues, and reports on the activities of the Freight Advisory Committee from the past year
Review significant MnDOT initiatives and activities and provide freight impact and benefits comments
Direct the preparation and distribution of "white papers" on freight transportation issues important to Minnesota's economy
Advocate for needs of freight transportation to the public, elected officials and other public agencies and organizations
Suggest research initiatives and tools supporting the economic vitality of the state
Refer to the MFAC Ad Hoc Working Group Recommendations Report for additional information on these recommendations and recommendations for modification of the MFAC structure/membership.
Action. Partner and collaborate with the MFAC on fulfilling the recommendations of the working group

4 - Advocacy
Stakeholder outreach conducted as part of this plan, as well as the findings from MnDOT's previous freight studies, revealed that existing funding mechanisms are inadequate for making the levels of transportation investment needed on the freight system to accommodate current and projected future demand. Advocacy is required to raise awareness of the funding issue and to begin to secure funds for freight projects in the state of Minnesota.
Action. Use partnerships to raise awareness of financial needs; quantify Minnesota's freight funding needs; secure funding for needed freight projects
5 - Traveler Information
Freight-specific traveler information, such as truck parking availability, expected travel time and roadway conditions can help industry better plan when/where they travel on roadways and where they are able to stop safely for rest periods. See the Truck Parking strategy under Traveler Safety and System Security.
Action. Incorporate freight-targeted traveler information into existing MnDOT traveler information resources; ensure freight is considered in future traveler information installations
6 - Workforce Development
To sustain the freight-related businesses and industries that operate in Minnesota and that the state relies upon for goods, it is essential that employers have access to a large pool of potential employees that are appropriately trained in the skills required for freight-industry jobs. In particular, the trucking profession has difficulty attracting the next generation of drivers due to many factors including long work days and the amount of time on the road away from home. Programs in cooperation with community colleges and other educational institutions, work training programs through the private sector, or other venues are important to ensure that an appropriate workforce is available for transportation needs.
Action. Quantify and reach agreement of the issue among partners, further identify what is needed/what are the potential solutions and the appropriate lead entity
Transportation projects do not occur in a vacuum; they are surrounded by context. Context refers to the things people care about—the people, places, and circumstances of their lives. While Minnesota residents and businesses rely on freight to provide their day-to-day needs, freight activity sometimes leads to unintended impacts. Understanding these impacts is an important part of freight project planning and policy development and making sure decisions are made that take land use, energy consumption, the environment, the economy, public health and the needs of traditionally underserved populations into consideration. Considering context when making freight transportation decisions leads to projects that are safer, sustainable in scale and tailored to the specific places in which they exist—projects that respect and complement the economy, environment, and quality of life of a place.
Strategies
7 - Corridor Preservation
Rail corridors held in the State Rail Bank should be actively managed and regularly evaluated for possible future transportation uses. Many unused rail corridors are preserved through uses such as bicycle trails. While converting these corridors back to active rail use is often difficult and costly due to encroachment, regulations and public opposition, they provide opportunities to enable right of way for relocation and elimination of road or rail traffic in other parts of the region. A proactive approach to management includes the identification of potential future opportunities early on, so that changing use (e.g., a bike trail to a roadway) is minimized.
Action. Proactively manage rail corridors and identify potential future uses

8 - Truck Routes
Urban areas are often where the most conflicts between trucks and other motoring vehicles occur. This is not only on the highway system but also on the local roadway network, as trucks travel the system making pickups and deliveries. Truck route designation can help focus through truck trips and minimize neighborhood cut-through traffic. With the current emphasis on Complete Streets (see below), there is a growing number of streets that have designated bike lanes and pedestrian pathways. In some cases, these uses are occurring on truck routes, creating safety issues and concerns. Trucks that must cross bike lanes to access on-street loading zones or that double-park due to lack of sufficient on-street parking for trucks can create particular hazards for bikes. To operate safely and improve efficiency, truckers often work during off-peak hours whenever possible; however, it is the responsibility of local planners to consider/designate truck routes/routing in their jurisdictions.
Action. Consider trucks in planning; designate truck routes to focus truck movements (and separate from conflicting transportation uses) especially in industrial and urban areas with restrictions/enforcement in adjacent residential areas
9 - Complete Streets
Similar to truck routes, Complete Streets planning principles are frequently used in urban settings where roadways must serve multiple purposes for sometimes conflicting transportation users. Complete Streets projects often focus on accommodating personal automobiles, transit, bicycles and pedestrians, and sometimes do not fully include the needs of trucks. Complete Streets applications in Minnesota should consider truck movements as part of total vehicle traffic and propose treatments to create harmony between trucks and other users such as time-of-day delivery windows to reduce conflicts with other street users, design guidelines for curb pullouts that can be used at different times for bus pullouts and truck parking.
Action. Consider freight movements in Complete Streets planning activities
10 - Land Use Planning and Policies
Land near freight facilities and port areas is ideal for freight shipping purposes but is increasingly in competition with residential, commercial and recreational land uses. In the Minneapolis-St. Paul area and other parts of the state, businesses and shippers have had difficulty obtaining land with rail and port access. In some cases, zoning has become restrictive toward industrial and commercial uses .In other cases, citizens have rallied to prevent expansion in rail traffic and operations due to noise and environmental concerns. Land use planning and policies must be developed to ensure freight development areas are designated and preserved. Additionally, these areas (and new freight-intensive uses) should be sited adjacent to existing infrastructure whenever possible.
Action. Support land use policies that ensure freight development areas are designated and preserved, and that development occurs adjacent to existing infrastructure
11 - Freight As A Good Neighbor
Minnesotans enjoy a high quality of life; however, sometimes freight activities can have negative effects on local areas. Programs and projects that support and encourage freight activities and help mitigate local impacts of freight should be pursued. These strategies include encouraging cleaner trucks, "green" locomotives, alternative fuels use, shifting to lower emitting modal uses, idle reduction technology and others. MnDOT has a role in encouraging private businesses/carriers to install these green technologies on their fleets. MnDOT can also serve as a conduit for grant funding to accomplish this.
Action. Encourage private businesses to implement "green" technologies on fleets; identify grant funding for implementation
12 - Advanced Technology
The deployment of advanced technology has the potential to increase freight system efficiency, improving the flow of goods and reducing the cost to move them. FHWA's Office of Freight Management and Operations promotes the deployment of technology and the adoption of best practices by state DOTs. Their Intermodal Freight Technology program conducts operational tests of ITS technologies, supports the development of tools to evaluate infrastructure and operational needs at border crossings, and develops standards for exchanging electronic freight data. While much of their work has been "cutting edge," technology is catching up, and the future holds promise of "real world" applications for state DOTs to consider. As noted in the section above, emissions reduction technology is a proven application that has widespread deployment. Also, MnDOT is conducting a truck parking pilot using advanced technologies in partnership with freight carriers and other Midwestern states.
Looking to the future, MnDOT should monitor development of advanced technologies and their applications for freight. One area of particular promise is that of connected and autonomous vehicles (i.e., in-vehicle, vehicle-to-vehicle, and vehicle-to-infrastructure technologies to reduce human error, avoid collisions and automate vehicle operation). Vehicle technology is mature and widely deployed but is not yet in active use by the public. It is anticipated that some of the first autonomous vehicle "self-driving" applications will be by large trucking companies. Autonomous trucks are being tested in the U.S. and could provide a solution to the workforce shortage in that industry.1
Action. Monitor advanced technology development and applications for freight; consider advanced technology as part of freight planning and project development; explore pilot programs as a way to test implementation of advanced technologies
Critical Connections
Freight is unique in that it is multimodal, crosses state and national boundaries, and has a myriad of public and private sector stakeholders with distinct operational and jurisdictional perspectives. While many types of connections are important to freight, there are critical connections that serve as the backbone for movement across and within Minnesota and to points beyond. The Principal Freight Network (designated as part of this plan), connections between modes of transportation, first- and last-mile connections and urban area connections are all essential. Identifying, preserving and enhancing these priority connections are sometimes shared responsibilities. All freight connections, regardless of jurisdiction, location or mode, need to be developed in coordination with one another to ensure a truly connected Minnesota.
Strategies
13 - Integrate Freight into all Planning Projects
Freight is an important part of the entire transportation system. While it is vital to plan specifically for freight, freight should be considered in project planning across modes (highway, rail, water and air). A case study in District 4 was conducted as part of plan development to understand how freight is currently being integrated into planning and programming activities at the district level and to identify additional tools, resources and information that may further help to include freight considerations in their approach to planning.
MnDOT currently uses a number of project scoping worksheets during the project development and planning stages. The purpose of these worksheets is to provide functional groups with a tool to investigate and record potential items that could be included in the scope of the project. The many varieties of worksheets cover topics such as business impacts, state aid scoping, environmental documentation, and maintenance, and provide opportunities for districts to consider "freight" in their day-to-day activities. While the planning section scoping worksheet specifically calls out freight as an item for consideration, additional information is required by the district to fill out the worksheet appropriately. For example, while the question "Is the project occurring near significant freight or truck traffic generators, or near a significant freight route?" is a good question, District 4 staff noted that the identification of "significant freight routes" or "significant freight or truck traffic generators" is not always obvious.
This plan identified Minnesota's Principal Freight Network as the NHS system. While this system may be used to identify significant freight routes at the state level, there are many other non-NHS roadways that play a critical role in freight movement at the local level. District 4 staff also noted that guidance on design criteria can sometimes be contradictory. For example, the worksheet guide encourages the use of traffic calming measures such as narrow travel lanes and curb bump-outs on roadways with mixed users (e.g., pedestrians, bicycles, passenger traffic, freight). While these measures may be especially beneficial to non-motorized users, they often make truck movements more difficult. District planners noted that guidance on which set of design criteria should take priority would be valuable.
The scoping worksheets and worksheet guides are intended to be living documents that are updated and revised periodically. MnDOT will continue to coordinate with district planners to ensure that freight is being integrated into project planning as much as possible. Additionally, as part of project planning, each MnDOT district should conduct outreach to freight stakeholders to consider their perspectives and ensure that project alternatives do not cause detrimental impacts to businesses/goods movement.
Action. MnDOT Central Office should coordinate with MnDOT district planners to identify the best ways to integrate freight into the planning process, monitor the effectiveness of the project scoping worksheet and guides and revise accordingly, and encourage districts to regularly engage public and private sector stakeholders in project planning
14 - Investments on the Principal Freight Network
This plan undertook a rigorous, data-driven process with oversight from a cross-agency Ad Hoc Working Group to identify Minnesota's Principal Freight Network. This designated network identifies the key infrastructure assets in the state on the highway, rail, waterway and aviation systems and identifies key facilities where modal systems intersect. As this network represents the backbone of industry supply chains, freight-related investments on Minnesota's Principal Freight Network should be given priority over other freight investments. Investments on the highway system should consider "freight friendly" design principles, including items such as generous turning radii, minimal/improved roundabouts, truck lanes, truck bypasses and other features.
MnDOT is already making significant investments in the freight system. This plan identifies the highway projects on the Principal Freight Network to which MnDOT has committed funding in the 2015-2018 State Transportation Improvement Program. It also identifies the project types that should be considered on the highway system in the future. This plan also notes the projects identified on the freight rail system during development of the 2016 Minnesota State Rail Plan. These and all future freight investments should consider multimodal solutions, ensure a high return on investment, and complement the social, natural and economic features of Minnesota. When appropriate, private sector funds should be sought and used to leverage public dollars, and private sector funds should be given in an amount commensurate with benefits received.
Neither the Statewide Ports and Waterways Plan nor the State Aviation System Plan specifically identify freight projects on those modal systems. In the case of air cargo, the Office of Aeronautics and the Office of Freight and Commercial Vehicle Operations (OFCVO) have both indicated the need for an air cargo assessment study to more fully understand the use of the state aviation system by industry, needs on the system related to freight and future investments.
As business practices and locations change over time, regular review and updates (every five years) should be made to the Principal Freight Network to ensure that projects/investments that move forward are providing freight benefits.
Action. Regularly update the Principal Freight Network; review design standards for highway projects on the network; conduct project planning and funding selection based on location on the network; conduct an air cargo assessment to determine investment needs
15 - First-/Last-mile Connections
First- and last-mile road, railway and port connections are the front door for Minnesota's industries. Through designation of Minnesota's Principal Freight Network it was determined that MnDOT can provide benefits and help ensure the multimodal freight system has seamless connections between modes by being proactive about facility and industry connections to the network. The process of designating principal rail, port, airport and pipeline facilities highlighted that there are numerous significant freight generators in the state where the modal systems need to be connected. The majority of these freight facilities identified meet FHWA's primary or secondary criteria for NHS intermodal connector designation but are not formally designated (or are only designated for passenger travel). MnDOT should work with the local agencies that have jurisdiction over these roadways to determine whether intermodal connector designation is something they would like to pursue. In the event connectors are designated, MnDOT can provide assistance to regional and local planning and economic development agencies to ensure that roads are designed and preserved at a level that enables them to best serve freight.
Action. Determine designation of new intermodal connectors and provide local agencies with design and maintenance guidance
16 - Targeted Freight System Investments
Targeted infrastructure investments should be pursued to make the best use of limited transportation dollars. MnDOT has designated a number of corridors, most recently the Principal Freight Network, that are key for freight and commercial connectivity within the state. Focused improvements on these roadway corridors can combine infrastructure (e.g., mainline, auxiliary lanes, truck bypasses and geometric improvements), ITS technology, safety programs and other actions to mitigate congestion and ensure reliable routes for freight. Spot roadway and railroad projects, such as interchange improvements, lane/siding additions, ramp improvements, traffic signal coordination or other improvements can mitigate chokepoints and reduce congestion at spot locations. For corridor and spot improvements, freight performance measures can be used to identify and target locations most in need of improvement, allowing MnDOT to conduct advanced planning and construct solutions to the state's most critical network bottlenecks.
Two goals of the 2016 Minnesota State Rail Plan are to upgrade main line track (all Class I-III railroads) to 25 mph minimum speed (FRA Class 2 track), as warranted, and to improve the freight rail network (all Class I-III railroads) to support the use of 286,000 pound railcars throughout the state. These improvements are needed to ensure commercial viability and safety for rail operators to meet the needs of the current and future shippers that rely on them. These are primarily issues for short line railroads where infrastructure conditions tend to be inferior to those of the large railroads. MnDOT administers the Minnesota Rail Service Improvement (MRSI) program that can be used to improve line condition. As a condition of funding, MnDOT should require the rail owner to update the rail line to these modern standards.
Action. Use performance measures to determine locations for spot improvement and implement improvement activities. Consider requiring MRSI funding recipients to upgrade rail on the portion of the line where project funding is given.
17 - Intermodal and Multimodal Facilities
Intermodal and multimodal transload facility development allows goods to shift between modes such as truck, rail and water. The Minneapolis-St. Paul region is the only location where rail intermodal service (the haulage of containers and trailers) is available in Minnesota, and Chicago and the Pacific Northwest/Western Canada are the only markets that are directly served. Stakeholders have remarked that containers are often unavailable for loading in Minnesota, limiting service availability. Sometimes it is more cost effective to truck goods to Chicago for loading into containers or rail cars. Although efforts to provide service in other parts of the state have not been successful, stakeholder conversations revealed a strong desire for intermodal service in Duluth and the western and southern parts of the state, and additional terminal capacity and services in the Twin Cities.
Action. Conduct a feasibility study to determine the need for intermodal/transload facilities and identify potential locations; identify solutions to equipment shortages
18 - Urban Goods Movement Programs
The assessment of the condition and performance of the freight system noted that the top 10 highway bottlenecks in the state related to travel time and delay are in the Twin Cities. This urban area is the center of passenger activity and goods movement. Highway congestion is also experienced by truck drivers, often at a higher cost due to the need for just-in-time delivery of goods. Projects and programs in urban centers focused on mitigating congestion caused by rush hour traffic, incidents, work zones or other factors should be advanced where high volumes of freight and passenger traffic coexist. Many of these types of projects are already being implemented (e.g., MnPASS lanes, 511 traveler information and other ITS technologies). These projects should also consider the benefits they provide to the freight community. In addition, as noted earlier, planning for truck routes and accounting for trucks in Complete Streets planning should be undertaken in urban areas to benefit goods movement.
Action. Continue advancing congestion management solutions in urban areas; consider impacts/benefits to freight in congestion management solutions and Complete Streets planning.
19 - Truck Size and Weight
The Commercial Vehicle Operations Section of MnDOT's OFCVO administers OSOW permits for trucks traveling on the trunk highway system in the state. In Minnesota, individual counties are responsible for permitting loads on their county road networks. Generally, loads that exceed a width of 8 feet 6 inches, a height of 13 feet 6 inches, a length of 75 feet zero inches, and a gross vehicle weight of 80,000 pounds require a permit. A common issue in Minnesota and most other states is that the number of enforcement staff at the state and local level trained in commercial vehicle operations is insufficient to reliably enforce the OSOW permitting program. Permitting requirements and nuances in the state regulations are complex and include a number of exceptions and provisions based on commodity types, truck configurations and travel plans. One resulting issue is that unpermitted and improperly permitted loads can cause significant amounts of damage to state and local roadways.
There is also a need to streamline truck size and weight restrictions and align them with adjacent states and provinces to make it easier for haulers to do business across state lines. During one-on-one meetings many freight business noted frustration with the discrepancies between size and weight restriction in Minnesota and neighboring states and territories. Minnesota's size and weight regulations are more restrictive than other states, particularly North Dakota and Canada. These disparities make for more challenging freight logistics for interstate travel.
Action. Work with neighboring states to identify truck size and weight mismatches and develop a plan for harmonization; work with state and local enforcement departments to determine how OSOW movements can be better enforced
20 - Modal Options/System Redundancy
Some corridors and locations on the multimodal freight network are stressed to or over capacity. Delays along one route or on one mode can spread to other networks and affect both passenger and freight travel. For example, in the recent past increased oil, gas and agriculture rail shipments along BNSF's corridor from North Dakota to Minneapolis negatively impacted the on-time performance of other freight and passenger rail movements.
In addition, infrastructure across all modes is aging, raising the likelihood that a critical link will fail. Temporary closures due to weather (especially high and low water on the inland waterway system) are also a concern. Redundancy, either via alternative routes or alternative modes, should be integrated into freight system planning to ensure the freight system has resiliency. Redundancy will also allow for the flow of goods to continue when a particular mode or route is unsuitable due to safety concerns or competing demands. Redundancy and choice are key to alleviating captive shipper concerns (which is an issue predominantly on the rail system).
Action. Develop a freight system resiliency plan to identify potential freight system threats, locate key parallel multimodal routes, locate critical gaps in modal/system redundancy, and identify contingency alternatives to ensure freight disruptions are minimized
21 - Evaluate and Restructure Existing Freight Funding Programs
As noted in the 2016 Minnesota State Rail Plan, MnDOT's funding programs should be evaluated and restructured to more adequately address needs. For example, the MRSI program should be restructured to allow for larger projects, and the Rail/Highway Grade Crossing program should expand to consider strategies beyond active warning devices. The existing MRSI program should continue to be built upon, including raising the maximum loan amount beyond the current $200,000 ceiling.
Action. Evaluate existing funding programs and structure; adjust programs, as needed, to better meet funding needs
In many cases, the same infrastructure is used for both freight and passenger travel, creating potential synergies in asset management for both forms of transportation. Keeping individual assets viable and managing them for long-term system needs are important. However, there are key differences in terms of performance goals, time horizons and maintenance needs among corridors that are heavily used by freight in contrast to those that serve primarily passenger travel. Routes that serve heavy-haul equipment or see high levels of truck traffic are more vulnerable to pavement deterioration and may need higher levels of maintenance. One of the key applications of the Principal Freight Network is to support improved asset management. This includes identifying and prioritizing system needs on the highway system that are most important for freight.
Strategies
22 - Freight Data
Planning for the freight system can often be a challenge due to the private sector freight community that owns and operates a large portion of the freight system and maintains proprietary data. To do better planning and align resources to where they can provide the most benefit, improved freight data is required. Although the private sector has historically not shared data and is unlikely to do so in the future, there are steps that MnDOT can take to improve its own data collection efforts (e.g., regularly taking classification counts when traffic counts are required so that the state's repository of truck count information is gradually improved). MnDOT should also continually evaluate innovative data collection technologies and sources to determine cost effect approaches for future freight data collection. For example, the FHWA has recently provided the National Performance Management Research Data Set to state DOTs for understanding truck travel time and delay.
Action. Expand data collection practices to include truck/classification counts; explore innovative sources for freight data
23 - Freight System Performance Measures
Freight system performance measures and indicators were developed as part of this plan. In conjunction with designating Minnesota's Principal Freight Network, performance measures allow documentation of key attributes of the system and comparison across geography and time. Establishing a baseline and/or goal, tracking progress or managing performance and communicating results are all ways in which performance measures are a valuable part of the project development process. Freight system performance measures should be used to monitor and report system condition and identify investment needs for key transportation infrastructure that is owned and operated within the public and private sectors.
Action. Regularly collect data and apply freight performance measures and indicators, in particular those that apply to the Principal Freight Network; include freight performance measures as part of annual performance measure reporting
24 - Freight System Investment Plan
Minnesota has a 20-year investment plan for state highway system assets, called the Minnesota 20-year State Highway Investment Plan (MnSHIP). The most recent plan, which covers the years 2014-2033, supports the Minnesota GO vision and links to the policies and strategies laid out in the 2012 Statewide Multimodal Transportation Plan. MnSHIP guides future capital improvements on Minnesota's state highway system over the next 20 years; it does not guide investments on local or county roads.
While project investments have been identified in this plan, how these investments should be implemented and which should come first have not been identified. The passage of the FAST Act in 2015 requires that states include a prioritized freight investment plan as part of a compliant freight plan. Although detailed guidance from the U.S. DOT is not yet available, a freight system investment plan in Minnesota could potentially be developed under a similar framework as the MnSHIP. In this case, the freight system investment plan would cover 20 years and be divided into three periods:
Years 1-4, Freight Transportation Improvement Program: The FTIP identifies projects on the multimodal freight system that MnDOT and partners intend to carry out in the next four years. The investments on the highway side will be included in Minnesota's State Transportation Improvement Program, the four year program of funded projects.
Years 5-10: A general plan of multimodal freight system improvements and identification of specific projects, though project timing and scope may change.
Years 11-20: Specific projects are not identified, but broad investment priorities based on direction from the Minnesota Statewide Freight System and Investment Plan are identified and associated funding sources and allocations are determined.
The freight system investment plan will be fiscally-constrained as prescribed by the requirements of the FAST Act. Additional projects or aspects of the investment plan may be developed to align with the MnSHIP process or for needs such as to assess the amount of additional and freight-specific funding required to advance Minnesota's freight vision.
Action. Develop a FAST Act compliant prioritized freight investment plan
25 - Prioritize Preservation of the Principal Freight Network
The Principal Freight Network routes should be used as a prioritization tool when assessing system-wide needs in other highway/statewide investment plans, especially when considering other types of systems (i.e., super-load corridors, OSOW, etc.). For example, prioritizing bridge/pavement maintenance so that pavements are free of potholes and roadway and railway bridges are able to handle heavy loads.
Action. Review priority criteria and develop strategies to prioritize maintenance on the Principal Freight Network
Freight safety and security involves making travel safer for freight vehicles and also for the passenger vehicles that share the roadway, rail, air and waterway systems. This is the case in daily operations and during emergency situations. The "4Es" of safety in Minnesota – education, enforcement, engineering and emergency services – all have a place in the supporting strategies of this plan and align with the idea that the freight system should be resilient, reliable and have alternatives available for critical connections.
Strategies
26 - Design for Freight Safety
Interstate highways were designed and built to standards that safely accommodate travel by large trucks. State and local roadways in particular may present safety challenges to trucks due to narrower lanes, non-paved shoulders, or intersection design. Especially on the Principal Freight Network and routes heavily used by truck traffic, MnDOT should employ a strategy, where context appropriate, to design and build features that improve vehicle safety, such as rumble strips/stripes, center rumble strips, guardrails, wider shoulders, turn lanes, barrier wall/cable median barrier and other features.
Action. Develop and implement design guidance to accommodate large trucks on state and local roadways
27 - Truck Parking
Truck parking is an issue nationwide. Trucks need parking availability to comply with federal hours of service regulations and pull off the road to rest or avoid congestion. MnDOT recently conducted a study to demonstrate an automated truck stop management system that can determine the number of occupied parking spaces at MnDOT safety rest areas. The data from the project can be used by MnDOT and private site owners to determine if existing facilities are suitable for demand, and if needed, should be used to plan improvement or expansion projects.
Action. Conduct comprehensive assessment of truck parking needs and plan for improvement and expansion of truck parking facilities, as warranted
28 - Incident Management and Emergency Response Plans
Emergency response and incident management plans are necessary to ensure the highest level of emergency response and incident management possible during catastrophic events. These plans can help address both day-to-day and long-term connectivity and operational challenges due to extreme weather, incidents or other catastrophic events. Planning should involve identifying the region's critical supply chains and bottlenecks so that actions are effective, such as proactive rerouting of hazardous materials.
Action. Determine the appropriate scope of statewide and/or local emergency response plans needed; identify critical supply chains and bottlenecks and hazardous materials routes; develop emergency response plans in cooperation with partner agencies
29 - Rail Crossings
Rail-highway crossing safety is a concern due to a history of accidents with crossing vehicles, trucks, bicyclists and pedestrians. Significant improvement has been made with the safety of rail crossings in Minnesota, but many of the currently installed warning devices will need to be replaced by 2030. Some locations will need improvements beyond active warning devices.
Action. Continue to assess grade crossing safety and identifying solutions including improving grade crossing protection, highway/rail grade separations, crossing closures and geometric improvements; seek alternative sources of funding to accelerate rail safety implementation
30 - Rail System Vulnerabilities
Safety and security on the rail system is of paramount concern to Minnesota. A series of recent disasters involving unit trains of oil have occurred across North America. The Minnesota legislature passed laws to increase the safety of rail movements in the state and charged MnDOT with studying the risks of highway grade crossings that have significant crude-oil-by-rail activity and provided funding for improving rail grade crossings and hiring additional rail inspectors. This is a key step in a long-term strategy to develop and implement a comprehensive plan that addresses key safety vulnerabilities across Minnesota's rail network.
Action. Develop a comprehensive plan that identifies and addresses vulnerabilities on Minnesota's rail network
1 MnSHIP is currently being updated to reflect the 2018-2037 20-year planning horizon.

2 http://www.wired.com/2015/05/worlds-first-self-driving-semi-truck-hits-road/