Menu
Click to display menu
Share
Click to display social links
The Importance of Freight to Minnesota
This chapter provides an overview of the importance of freight industries and goods movement to the state's economy and includes a description of trends that may affect goods movement in the future.
Minnesota's Economy
The structure of Minnesota's economy—population; per capita income; employment; the type, size, and locations of businesses and industries—determines the volume of freight moving in the state.
Minnesota's State Demographics Center reports the population of the state as 5.4 million as of 2014. The population is expected to grow to six million by 2031 and to 6.5 million by 2065, at an annual rate of change of 0.5 percent.1 Approximately 60 percent of Minnesota's population is centered in the Minneapolis-St. Paul metropolitan area. Hennepin, Ramsey, Dakota, and Anoka counties are the most populous counties in the state. No other county in Minnesota has a population that exceeds 250,000. This concentrated nature of Minnesota's population, coupled with the large geographic size of the state, means that although both rail and highway networks serve wide rural areas, much of the freight and passenger activity is concentrated in key pockets within the state.
Minnesota's employment rate has historically been higher than the nation as a whole; however, Minnesota's employment is expected to grow at a slower rate (7.0 percent) than the nation (10.8 percent) between 2012 and 2022.2 Much of the job growth in Minnesota will be focused on service, professional, and management jobs, suggesting a continued growth in demand for commuting and business travel (Figure 1.1). This reinforces the importance of connecting the Minneapolis-St. Paul metropolitan economy with other regional centers of commerce, such as Chicago.
Figure 1.1 - Job Growth in Minnesota, in Thousands, by Major Occupational Group, 2012–2022
Source: Minnesota Department of Employment and Economic Development, 2014
Minnesota's economy is diverse and is driven by business services, finance, and healthcare industries, as well as freight- or trade-related industries such as agriculture, mining, and manufacturing. Trade-related industries are key drivers of the economy. Figure 1.2 shows the contribution of freight-related and other industries to the Gross State Product of Minnesota and neighboring states. Forty percent of Minnesota's GSP is dependent on freight-related industries, a higher percentage than many of its neighboring states. Figure 1.3 details the percentage contribution, by industry sector, to Minnesota's GSP.
Figure 1.2 - Gross State Product, Minnesota and Neighboring States (Millions of 2013 $USD)
Source: U.S. Bureau of Economic Analysis, 2013
Figure 1.3 - Industry Sectors as Percent of Minnesota GSP (with Freight-Related Industries in Bold Text)
Source: U.S. Bureau of Economic Analysis, 2013
Minnesota's Freight-Related Industries
All industries are dependent on the transportation system, and freight- or trade-related industries depend upon multimodal connections and the option to ship goods via road, rail, water or air. This is particularly true in Minnesota as it is the headquarters for 18 Fortune 500 companies, many of which are freight-related and specialize in a range of areas from medical devices and financial services to retail and food production. The list includes major manufacturers such as 3M, General Mills, Medtronic, Land O'Lakes, Ecolab and Mosaic. Agricultural commodities giant Cargill Inc., the largest privately held company in the country, is headquartered in Wayzata. Minnesota also hosts Best Buy and Target corporate headquarters and distribution centers.
Table 1.1 shows the relative importance of transportation modes to freight-related industries. Trucking is important to all industries, as even goods moving via other modes often use trucks for the first- and last-mile of the trip. Rail and water serve the agriculture, mining, manufacturing, and trade sectors, while air is mostly used for the transport of high-value manufactured goods and consumer products. Pipeline transport is important for moving crude oil and other energy sector goods.
Table 1.1 - Importance of Transportation Modes to Minnesota's Freight-Related Industries
| INDUSTRY | TRUCK | RAIL | WATER | AIR | PIPELINE |
| --- | --- | --- | --- | --- | --- |
| (11) Agriculture, Forestry, Fishing, and Hunting | More Important | More Important | More Important | Less Important | Less Important |
| (21) Mining | More Important | More Important | Somewhat Important | Less Important | More Important |
| (22) Utilities | More Important | More Important | Somewhat Important | Less Important | More Important |
| (23) Construction | More Important | Somewhat Important | Somewhat Important | Less Important | Less Important |
| (31-33) Manufacturing | More Important | More Important | Less Important | Somewhat Important | Less Important |
| (42) Wholesale Trade | More Important | More Important | Less Important | Less Important | Less Important |
| (44-45) Retail Trade | More Important | Somewhat Important | Less Important | Somewhat Important | Less Important |
| (48-49) Transportation and Warehousing | More Important | More Important | Less Important | Somewhat Important | Less Important |
Note: Industries are defined by NAICS code – North American Industry Classification System
Businesses in Minnesota have unique supply chains customized to their needs. Supply chains are essentially goods moving from producers to intermediate suppliers, manufacturers, distributors and other businesses, and finally to the consumer or end recipient. Supply chains are closely related to the costs a business is able to bear. For this reason, access to reliable and cost-effective transportation networks and services can greatly impact a business's bottom line.
Figure 1.4 illustrates a conceptual supply chain where the connections between points can be made via truck, rail, water, air or pipeline. As an example, an agricultural supply chain might begin with farmers in North Dakota who receive fertilizer via rail, and may then send grain to Minnesota's food processing and food manufacturing industry via truck. The food processing and manufacturing industries may also receive other inputs – manufactured equipment, packaging material and other materials that are either shipped locally or travel via water, rail and truck from international destinations such as Asia or Latin America. A food manufacturer might then truck finished goods (e.g., boxes of cereal) to a regional distribution center that distributes them to retailers within the state or ship their products cross-country for export via rail or ship.
Figure 1.4 - Visualization of a Supply Chain
Minnesota's Industrial Clusters
Minnesota's industries use the multimodal transportation system in various ways. A recent research effort3 conducted by the University of Minnesota, sponsored by MnDOT, investigated various competitive industry clusters in the state. For12 industry clusters located in regions around the state, one or more firms were interviewed on various aspects of their business, including their company's history and operations, customer base and suppliers, its use of transportation services, its plans for expansion in the near future, and whether transportation networks will be a necessary consideration in those decisions. The key industrial clusters in Minnesota include:
Recreational Vehicles (Northwestern Minnesota)
Hospitality and Tourism (Brainerd)
Mining and Forest Products (Duluth)
Production Technology (Alexandria)
Construction Materials (St. Cloud)
Water Technology, Medical Devices, and Robotics (Minneapolis-St. Paul-Bloomington)
Processed Foods (Worthington)
Heavy Machinery (Fairmont)
Publishing and Printing (Mankato-North Mankato)
Automotive/Glass (Owatonna)
Footwear (Red Wing)
Local Health Services (Rochester)
A critical, common theme that emerged from the interviews was the importance of the reliability of shipments. Businesses and customers alike need to know that their goods will arrive on time and in the condition expected. This issue quickly becomes complex as many freight movements have an origin or a destination not only outside the immediate region, but also outside the state and nation. While some sources of delay emerge at other locations within a firm's supply chain, many can be addressed and managed locally, such as recurrent delays due to construction projects, inclement weather, and traffic congestion. The respondents cited Minnesota's 511 information system as an important source of information to identify and respond to potential delays.
Other select findings from these interviews pertained to specific clusters or regions, and included:
Need for airfreight service. Certain industries were more heavily reliant on air transportation for the movement of customers, products, or both. The Mayo Clinic in Rochester relies heavily on regional air services to deliver patients from around the country in addition to large shipments of laboratory test specimens at its test facilities. Likewise, the Medical Devices industry cluster in the Twin Cities region4 relies heavily on express airfreight shipments to deliver its products in a timely fashion to national and international customers. In both cases, the reliability of air service as well as ground-side access is critical, as delays to either are considered costly.
Desire for improved intermodal freight facilities. Firms in the Construction Materials (mostly granite) and Forest Products clusters, both of which ship heavy, bulky materials, noted shifting shipments to other modes (mostly trucking) to adapt to a lack of availability of freight rail facilities nearby. Some of these issues correspond to freight rail capacity issues due to an increase in shipments of oil supplies from North Dakota.
Infrastructure condition. The need for smooth pavement was cited by several firms whose products were either breakable or perishable. Firms with breakable products include those in the Automotive/Glass cluster that move much of their products on flatbed trucks, along with firms in the Medical Device cluster that are highly sensitive to the integrity of their product during shipment and choose freight carriers with this criterion in mind. Firms with perishable products include those in the Processed Food cluster, which features a number of firms that must ship and receive large amounts of livestock on a daily basis, and the laboratory testing activities in the Local Health Services cluster, which has products that are both breakable and perishable and must be handled and shipped especially carefully.
The findings from this research provide industry insight for developing the 2017 Minnesota Statewide Freight System and Investment Plan, as well as information for public officials to consider as they plan the transportation systems of the future.
Freight Trends: Minnesota and Beyond
Freight movements in Minnesota are increasingly national and global in scope and are sensitive to market forces and the supply chain decisions of businesses within and outside the state. Businesses may make decisions based on these forces, which often result in local impacts on goods movement within the state. Regional or national decisions made by other transportation agencies and operators can also be felt locally. This section identifies trends that affect Minnesota's freight-related industries now and in the future.
Energy
The changing nature of energy production and consumption in the U.S. and in Minnesota has been one of the largest factors influencing industrial growth and freight system demand over the past decade. A few of the major trends driving Minnesota's economy and use of the freight system relate to liquefied natural gas (LNG) and compressed natural gas (CNG) use, renewable energy sources and hydraulic fracturing.
LNG/CNG
Liquefied natural gas and compressed natural gas are potential alternative fuel sources for commercial vehicles. National trends such as an increasing supply of natural gas, higher diesel fuel and gasoline prices, environmental regulations, and growing natural gas fueling infrastructure may push the conversion of truck fleets to natural gas in the long-term, but short-term conversions will likely remain limited. Heavier engines (that limit the potential commodity load), higher initial purchase price, lower fuel efficiency, higher maintenance costs, and limited infrastructure are other factors that currently inhibit conversion of the truck fleet to LNG or CNG. The U.S. Energy Information Administration predicts that natural gas will fuel 14 percent of heavy-duty vehicles by 2040, although this information is not available at the state level.
Though growing, current use of LNG and CNG for engine fuel in Minnesota is limited, accounting for less than one-thousandth of a percent of all fuel sold in the state. In addition to the constraints identified above, Minnesota also lags behind states such as Texas and California in offering financial incentives that could induce conversion. Of the 383 laws and incentives to encourage use of LNG and CNG throughout the U.S., Minnesota currently offers three: an alternative fuel tax and two laws that require state agencies to purchase alternative fuel vehicles when feasible.5
Renewable Energy
Minnesota ranks twelfth among states (as of 2010) in the amount of electricity produced by renewable energy resources with a net generation of 7.48 gigawatt hours.6By far, the largest renewable resource in the state is wind. Minnesota is among the nation's leaders in wind energy production, ranking in the top five by most measures. Over 60 wind farms are currently in operation across Minnesota, with a total wind energy capacity of more than 2,700 MW – enough energy to supply over 600,000 homes. This wind energy requires substantial freight intensive movements to erect farms, including shipments of oversize and overweight loads from Great Lakes ports to western Minnesota. The Port of Duluth is especially critical to these shipments, handling nearly a million freight tons of wind energy cargo between 2005 and 2010. The generating units atop wind towers, called nacelles, require pre-fabrication off site and are typically trucked to their final locations. Blades—reaching up to 150 feet in length—and tower pieces are also manufactured elsewhere and moved via the highway system to their final destinations within Minnesota.
Buffalo Ridge is a glacier-deposited rise that runs diagonally across southwestern Minnesota and is the primary resource for wind capacity in the state. Ten years ago, no production-scale wind farms existed in this area. Most of the land was traditional, typical farmland. Today more than 470 wind generators are producing more than 1,000 MW of power along Buffalo Ridge. Substantial infrastructure is required to facilitate the construction of these wind farms. Many areas have not yet reached capacity for wind generation; however, at this time it is unclear how many additional sites will be developed.
On the renewable fuels side, trucking relies nearly exclusively on diesel fuel. Continuing improvements in the viability of biodiesel fuels directly impacts trucking, and with Minnesota's vast agricultural resources, the biofuels industry remains critically important. The corn-derived ethanol industry is spread throughout the southwestern part of the state and has 21 production facilities that account for more than 300 jobs and $500 million in economic activity.
Hydraulic Fracturing
A new technique in the oil and gas industry that has emerged over the last 10 years is hydraulic fracturing of rock. Induced fracturing, or fracking, allows for the recovery of "captured" gases and petroleum products. The technique is commonly applied to shale gases. The proliferation of shale gas exploration has resulted in substantial increases in associated freight-related movements across the Midwest.
In Minnesota, there have been two primary freight-related impacts of fracking: increased petroleum-related movements and the need for direct inputs to the fracking process, including sand, water and other chemicals. As of 2014, there were more than 10,000 wells7 used for fracking in the Bakken region. A single horizontal well typically uses between 3,000 and 10,000 tons of sand. A typical railcar, which is the dominant mode for transporting frac sand, can hold around 100 tons. This translates into up to 100 railcars of sand for each well. Figure 1.5 highlights areas where sand mining is currently underway in Minnesota. The southeastern part of the state includes the edges of the premium sand deposits needed for hydraulic fracturing. Nine mines are in production in Minnesota.
Sand processing consists of moving sand through a series of steps to sift it into size groups for market. A single sand mine may produce several products for different markets across the country. Product differentiation requires separate trucks or railcars and different final destinations.
The Mid-America Freight Coalition completed a case study of Chippewa County, Wisc. (east of the Minnesota border) for sand mining related to hydraulic fracturing and the related consequences for the freight transportation network. Heavy usage of the roadway infrastructure by sand and gravel haulers, an increase in loaded train cars, and increases in noise were observed outcomes after the addition of a new sand mine.
Figure 1.5 - Sand Mining and Horizontal Drilling
Source: Mid-America Freight Coalition
Global Shipping Trends
Since opening in 1914, the Panama Canal has been a critical element of the global transportation network. A Panama Canal expansion project, projected to be complete in 2016, will allow larger ships to pass through the canal and will increase the canal's annual capacity by more than 75 percent. The effect of the expansion on U.S. ports and trade is a much debated topic and will affect future goods movement throughout the U.S.
Concerns remain about whether larger container ships can use U.S. East Coast ports due to draft and dredging requirements. Some container movements destined for the Eastern U.S. (that would have previously used U.S. West Coast ports and then been transferred to rail) will instead travel through the canal to U.S. East Coast ports, reducing the over-land distance travelled. Research findings suggest that the canal expansion may decrease overall shipping times to Midwest destinations, encourage export of grains and agricultural products to Asia via Gulf Coast ports, promote greater shipment of grain by containers, and increase the total energy costs of transportation. However, Minnesota's direct markets will likely retain their West Coast connections (Figure 1.6).
Figure 1.6 - Cost Advantage Regions by Ship Size
Source: Worley Parsons, Richard West
The Suez Canal is the Panama Canal's primary competing route for serving the East Coast of the U.S. A recent Suez Canal expansion allows ships to sail in both directions at the same time over much of the canal length. This has decreased waiting time from 18 to 11 hours for most ships and doubled the capacity of the Suez Canal from 49 to 97 ships a day. Such improvements in efficiency may further drive down costs to serve the Asia-U.S. East Coast market.
Each of these canal expansion efforts has the potential to allow containerized barge movements from the Gulf of Mexico via the Mississippi River system. Minnesota may see specific companies that benefit from the all-water containerized movements. However, increased system maintenance and upgrades to the locks, dams and landside infrastructure along the length of the Mississippi River network are likely necessary before any substantial container-on-barge operations would be available.
The possibility of increased trade through the Northwest Passage may also shift global supply chains. 2008 marked the first passage of a commercial vessel through this corridor. The route, illustrated in Figure 1.7, travels north of Alaska and Canada and reduces the travel time between China and Europe by two weeks or approximately 5,000 miles. It is also 30 percent shorter than the current route between Asia and the East Coast of North America. More analysis is needed to understand the impacts of this route on Minnesota.8
Figure 1.7 - Popular Northwest Passage Routes

Source: National Aeronautics and Space Administration via Wikimedia Commons
On-/Near-shoring Trends
Although Canada is Minnesota's primary international trading partner, trade between Minnesota (and other states) and Mexico and Central and South America is increasingly important to Minnesota and the overall U.S. economy and is changing supply chain structures. Increasing Inter-American trade and potential new trade agreements9 between these countries increases the potential for additional import and export trade for Minnesota's businesses.
As manufacturers seek methods to reduce production costs and the total cost of goods, they increasingly have been turning attention to manufacturing closer to market, namely in Mexico, the Caribbean, and Central America (near-shoring) and the U.S. (on-/re-shoring). Mexico appears to have the most to gain from near-shoring activity in the near-term. As reported by industry, the main reasons for near-shoring are lower freight and inventory costs and improved speed to market.
Recently, some Minnesota companies moved production to Mexico. IBM moved a production facility from Rochester to Mexico in 2013. Polaris operates a facility in Monterrey, Mexico with more than 400 employees. Best Buy and Target increased sourcing through Mexico in the last five years. This trend is expected to continue, with a 2014 survey by BNP Market Research observing that, "nearshoring remains a strong part of company strategies with 92 percent of survey respondents saying they will increase or continue nearshoring."10
Production
3D printing is emerging as a viable option for geographically dispersed manufacturing and allows for new designs of engineered materials. Large-scale 3D printing enables entire houses to be printed in less than 24 hours. Bridges can be "printed" in place and assembled with minimal disruption to the traveling public. The implications for large manufacturing, roadway construction and general architectural design are increasingly apparent. Cost savings from labor reduction, material recycling and efficiency make this technology operational beyond the laboratory level.
Beyond highway construction, the emergence of 3D printing has substantial impacts for the production of goods. The proliferation of manufacturing sites, with on-site production capability, changes the dynamics of supply chains considerably. The ability of firms to "print" replacement pieces or detailed manufactured devices (including medical equipment and machinery) rather than relying on the movement of freight alters the reliance on shipments of these components. However, the movement of raw material to feed 3D printers and other advanced technology will require a robust transportation system—even if some parts of the system can be automated.
Delivery
The Movement of Crude Oil by Rail
With the increase of shale oil drilling in the Bakken Region of North Dakota, the Alberta tar sands and other locations, Minnesota's rail system saw large increases in crude oil movements. According to the Association of American Railroads, in 2014 U.S. Class I railroads originated more than 490,000 carloads of crude oil, a significant increase over the less than 75,000 carloads originated in 2011.11 Although transportation costs for shipment by train are higher, rail offers competitive advantages over pipeline transfer. Rail serves major refineries on the coasts, and inland and Gulf markets, allowing companies the flexibility to ship their products to the highest-margin market. In addition, rail allows for uncontaminated shipment of different grades of petroleum, while pipeline shipments may result in mixing grades of oil. Finally, rail adds needed capacity to the system, as pipelines can only handle about a third of the 1.2 million barrels per day that the Bakken fields produce.
Safety and security issues are at the forefront of many minds in the aftermath of recent disasters involving unit trains of oil. Minnesota has responded to these trends and the unknown nature of future shipments by passing laws to increase the safety of crude oil by rail movements in the state. The state is requiring MnDOT to take action by conducting studies on highway crossings that have significant safety risks due to increased crude oil by rail activity and providing $2 million to make the first round of short-term improvements at rail grade crossings. Proposed federal rules regulating the shipment of crude oil may further affect state safety operations.12
Throughout 2013 and 2014, the increased crude oil traffic in North Dakota, in conjunction with a record harvest throughout the upper Midwest, drove up demand for rail service and led to significant railway congestion. The rail boom related to extraction of petroleum (rail movements of crude oil itself and the shipping of chemicals, drilling pipe and sand components for hydraulic fracturing) limited the capacity of freight railroads to handle traditional industries in Minnesota. Grain shippers, paper manufacturers, ethanol manufacturers and taconite and forestry industries complained about the availability and access to rail shipping as a result of the capacity consumed by the oil and gas industry. Due to slower travel times and longer turn-arounds leading to a lack of railcars available for grain shipment, grain was stored on the ground at facilities for extended periods of time while waiting for shipments. A study by the University of Minnesota's Center for Farm Financial Management estimated delays in railroad shipping cost Minnesota's corn, soybean, and wheat farmers nearly $100 million due to lower prices.13
It is anticipated that crude oil shipments will continue; however, some recent trends indicate that more of the production from these fields is being slated for export via West Coast ports. Approximately 50 oil trains per week transport Bakken crude oil across Minnesota. In addition, more than 140,000 crude oil tankers were mixed in with other traffic on Canadian Pacific or Canadian National lines in 2013.14With the trend to export a higher percentage of Bakken crude oil, shipments through Minnesota for refining elsewhere in the U.S. may be reduced slightly.
E‑commerce
Electronic Commerce, commonly called E‑commerce, is the purchase of goods or services online instead of at a brick-and-mortar store. E-commerce sales are expected to grow to more than $400 billion in the next several years, with Forrester Research estimating $414 million in sales in 2018 (more than 40 percent growth in four years) and eMarketer estimating $491.5 million in 2018 (more than 60 percent growth in four years), as shown in Figure 1.8. This is expected to result in larger quantities of goods moving through and to residential areas via trucks, increasing congestion and wear on local roads, with fewer personal trips to brick-and-mortar stores.15
Figure 1.8 - U.S. E-Commerce Sales, 2014-2018
Source: eMarketer, Forrester Research
Autonomous Vehicles
Delivery mechanisms, including the limited use of autonomous vehicles and airborne, unmanned delivery vehicles, change the long-haul and last mile requirements of standard business to consumer delivery. Amazon has expressed interest in creating same day delivery options on goods that would require use of automated technologies. Due to the small geographic scope of the airborne movements needed, high initial costs, liability concerns and the approval processes required of the Federal Aviation Administration only limited changes to standard package delivery services can be expected in the near term.
With respect to truck freight vehicles themselves, there is an increased likelihood that convoyed road trains may find uses throughout the industry in the next decade. These trucks, currently under testing by equipment manufacturer Volvo, as shown in Figure 1.9, require a lead driver with tractors controlled behind it by electronic automation. Current laws regarding vehicle configurations would need to be reexamined in order to make use of these changes in vehicle technology.
The full automation of trucking could cause massive disruptions in the labor forces associated with the industry--or potentially serve as a solution to the truck driver shortage. More than 150 firms and 13,000 employees are currently associated with the trucking industry in Minnesota. These firms account for more than $2.5 billion in economic activity plus the value of their goods. Associated industries, such as truck stops and truck repair services, would see secondary impacts of automation.
Figure 1.9 - Volvo Road Train Premier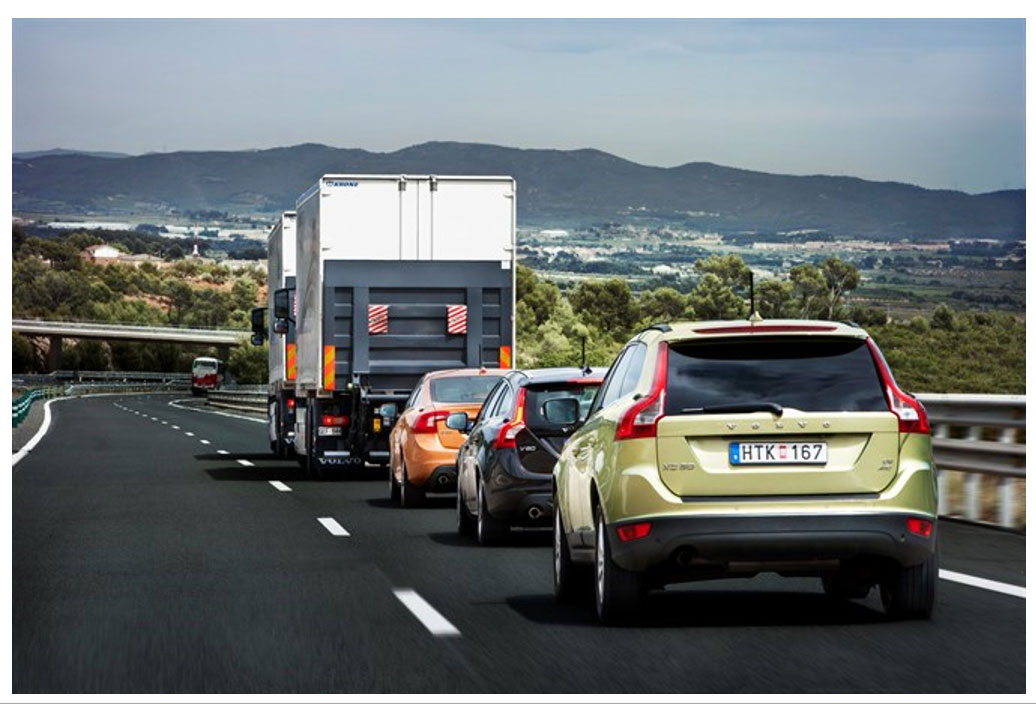 Source: Volvocars Global Newsroom
Truck Driver and Workforce Shortages
The American Trucking Association estimated a nationwide shortfall of 35,000 drivers in 2014. That number is projected to rise to 240,000 by 2020 if conditions remain the same.16 The lack of qualified drivers constrains total truck fleet capacity even as market conditions have rebounded. It is also a contributing factor to higher transportation prices. Without surplus capacity at a trucking company, any increase in shipment volume must be met by hiring through the independent market where rates can be up to 30 percent higher than for a regular, contract lane. Many of the goods made and used in Minnesota are seasonal, which worsens this problem.
Government regulation, in the form of tighter Hours-of-Service regulations, also decreases the capacity of the truck fleet. Stricter reporting requirements combined with rest mandates and reduced total hours may cause some drivers to leave the profession, while limiting the productivity of those who remain.17
Reduced trucking capacity could increase pressure on other modes, some of which are facing capacity issues of their own. Airlines, which typically move high-value, low-volume freight, are dealing with labor problems, especially among the smaller regional carriers. While not yet an issue for the larger national carriers that handle the majority of freight service, if enough pilots leave the profession, capacity concerns could increase in the future as current pilots—many of whom are from the baby boomer generation—retire.18
Environmental Concerns / Air Quality
Some of the most critical issues surrounding freight movements are related to impacts of freight-related emissions. Emissions along freight corridors can impact the health and safety of local communities, which can experience some of the highest exposure levels to pollution that causes asthma and other respiratory ailments, heart disease and other health problems. Through programs such as the Clean Air Act, states and regions are working to adopt strategies to improve air quality. Minnesota is in compliance with most measures in the U.S. Environmental Protection Agency's National Ambient Air Quality Standards, although some pockets of non-attainment still exist.19
Minnesota also ranked 23rd out of the 50 states in terms of carbon dioxide emissions in 2014, according to the U.S. Energy Information Administration. Freight transportation is a key contributor to greenhouse gases such as carbon dioxide. For this reason, states, the EPA and other agencies are to addressing environmental concerns related to heavy truck movements, bunker fuels in maritime trade and vehicle emissions. The EPA and the National Highway Traffic Safety Administration) are working toward passenger and freight-vehicles that are more fuel-efficient and emit less greenhouse gas. The EPA is also developing and implementing regulations to increase the proportion of renewable fuels for transportation.
The need for a reliable and resilient freight system is closely tied to environmental concerns. Minnesota's aging infrastructure combined with the effects of global climate change—volatile weather patterns and an increasing number of severe weather events—highlights the need to develop alternative modes and routes that not only limit the environmental consequences of freight movement but also provide businesses with reliable options. Mode and route choice also reinforce an emerging trend in supply chain management, often referred to as "greening the supply chain." As companies look for ways to decrease costs, save money and reduce waste, the availability of more energy efficient freight modes, such as water or rail, may drive further need for freight system redundancy and thus increase overall system resiliency.20 Projects that support and develop system redundancy help protect the environment, increase capacity, and buffer the just-in-time supply chain model from disruptions. Finally, near-shoring (discussed on page 18) is partially a response to environmental challenges, as shorter supply chains reduce the risks associated with natural disasters.
Public-Private Partnerships
Because of ongoing constrained fiscal environments at all levels of government, Public-Private Partnerships are an opportunity to leverage public and private sector resources through cooperative agreements to implement freight projects that benefit a variety of stakeholders. Strategies to do so were discussed by stakeholder groups at the Minnesota State Freight and Logistics Summit in 2014. With an aging multimodal infrastructure, repair and expansion work vital for the movement of freight to, from and through the state will require investment from public agencies and the private sector businesses that rely on that infrastructure to move goods. These partnerships can also benefit freight movement through collaboration and sharing of data, as performance measures increasingly become a criteria for funding in the public sector. Collaboration between public and private sector groups may also increase communication with different business sectors. As Minnesota's economy continues to globalize and integrate, freight issues in one industry will likely overlap with others. Working together towards mutually beneficial solutions to these issues will increase the effectiveness of Minnesota's freight movement infrastructure and raise the prospect for obtaining funding.
These partnerships are already occurring in Minnesota. As described in the 2016 Minnesota State Rail Plan, the Willmar Rail Connector and Industrial Access Project is an example of a Public-Private Partnership developed between the state, the railroad and local partners. BNSF and MnDOT partnered with Kandiyohi County, the City of Willmar, and the Kandiyohi/Willmar Economic Development Council and were awarded a $10 million TIGER VII grant in 2015 for rail improvements to BNSF rail lines and highway improvements to Highway 12 and Highway 40 in the City of Willmar. The rail wye, a triangular junction, will connect the Marshall and Morris rail subdivisions and alleviate congestion in the downtown area of Willmar, which is also where BNSF's Willmar Yard is located. The project includes two highway bridges over the proposed rail line.
1 Minnesota State Demographic Center Population Data, 2014

2 Minnesota Department of Employment and Economic Development, 2014

3 Transportation Planning to Support Economic Development: An Exploratory Study of Competitive Industry Clusters and Transportation in Minnesota, Lee W. Munnich, Jr., Principal Investigator, Humphrey School of Public Affairs, University of Minnesota, January 2015

4 Twin Cities region," or just "Twin Cities" refers to the portion of the state including and surrounding the cities of Minneapolis and St. Paul. Most commonly, this includes the seven-county area of Anoka, Carver, Dakota, Hennepin, Ramsey, Scott and Washington counties. Other similar, though different, "Twin Cities" boundaries also exist. In this plan multiple terms are used to refer to the Twin Cities, including Twin Cities region, Twin Cities area, Twin Cities metropolitan area, Minneapolis-St. Paul, Minneapolis-St. Paul region, Minneapolis-St. Paul area, and greater Minneapolis-St. Paul. Unless otherwise specified, they all general refer to the seven-county area surrounding the cities of Minneapolis and St. Paul.

5 Minnesota Department of Transportation, Office of Transportation System Management Research Services and Library. "Future Impact on Minnesota's Transportation Revenue Collection of Commercial Fleet Conversion from Diesel Fuel to Natural Gas." TRS 1415. November 2014.

6 U.S. Energy Information Administration. http://www.eia.gov/renewable/state/. Accessed 10 February 2015.

7 North Dakota Department of Mineral Resources, https://www.dmr.nd.gov/

8 MnDOT. Scenario Planning, 18.

9 Miami Herald. "U.S. Considering Deal to Expand Trade in the Americas." December 14, 2013. http://www.miamiherald.com/2013/12/14/3819165/andres-oppenheimer-us-considering.html

10 Perry A. Trunick, Dr. J. Paul Dittman. "Nearshoring on the Rise." World Trade, July 2014. http://digital.bnpmedia.com/article/Nearshoring+On+The+Rise/1745144/0/article.html

11 Association of American Railroads, https://www.aar.org/Pages/Crude-Oil-Rail-Traffic.aspx

12 Pipeline and Hazardous Materials Safety Administration, U.S. Department of Transportation. Notice of Proposed Rulemaking, Hazardous Materials: Enhanced Tank Car Standards and Operational Control for High-Hazard Flammable Trains. Docket No. PHMSA-2012-0082 (HM-251). July 23, 2014.

13 Star Tribune. "Rail shipping delays cost Minnesota corn, soybeans, wheat farmers nearly $100 million." July 10, 2014.

14 Star Tribune. "Canadian crude taking rail through northern Minnesota." August 4, 2014.

15 A transformation in brick-and-mortar stores, http://idahobusinessreview.com/2015/03/03/a-transformation-in-brick-and-mortar-stores/

16 Reuters. "Driver shortage makes capitalizing on low oil hard for truckers." February 6, 2015. http://www.reuters.com/article/2015/02/06/usa-truckers-railways-idUSL1N0VF1ZY20150206

17 Fleetowner. "HOS rules kick in, driving up fears of capacity crunch." July 1, 2013. http://fleetowner.com/regulations/hos-rules-kick-driving-fears-capacity-crunch

18 The Atlantic. "Turbulence ahead: The coming pilot shortage and how it came to be." July 14, 2014. http://www.theatlantic.com/business/archive/2014/07/turbulence-ahead-the-looming-pilot-shortage-and-its-decades-long-history/374171/

19 Minnesota Pollution Control Agency. http://www.pca.state.mn.us/index.php/air/air-quality-and-pollutants/general-air-quality/state-implementation-plan/minnesota-state-implementation-plan-sip.html

20 MnDOT. Scenario Planning, 13.