Menu
Click to display menu
Share
Click to display social links
Racial Disparities & Equity
In the last 50 years, Minnesota's population has become much more diverse. In 1960, only 1.2% of the state's residents were people of color; in 2014, they made up 18.6% of the state. Today, there are over one million people of color residing in Minnesota; a number that has almost doubled since 2000. This number is projected to grow significantly over the next twenty years (Figure 1).
Figure 1: Persons of Color as a percent of the total population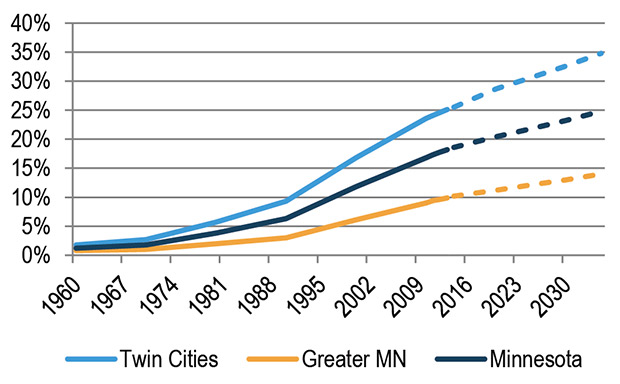 In 2014, the 7-county Twin Cities area was home to 75% of the people of color in the state. While communities of color are projected to grow in both the Twin Cities area and Greater Minnesota, the locations where people of color live are not expected to change significantly.
Income
Across the country, the racial wealth gap remains large: in 2011, the median white household had $111,146 in wealth holdings (assets including cars, homes, investments, etc.), compared to $7,113 for the median black household and $8,348 for the median Latino household.1 In Minnesota, the situation is no better. One recent study from 2015 found that Minnesota ranked last among all states in financial inequality between whites and people of color.
Transportation Spending & Transit Usage
Poor families tend to spend significantly higher percentages of their income on necessities like housing and transportation. In the area around the Twin Cities, the financial burden of transportation is much heavier on lower-income single, parent households with an income of $33,376 than on a household with the median income of $66,751.2
Additionally, in the Twin Cities, lower income populations make up a greater percentage of transit ridership than share of the overall population. In 2014, although people with a household income of less than $24,000 were 18% of the total population, they represented over 40% of all transit users.3
CITATIONS
1. Demos, 2015
2. Data is from U.S. Department of Housing and Urban Development's Location Affordability Index. Information can be found here: http://www.mncompass.org/transportation/transportation-expenses#1-12157-g
3. 2014 Metro Transit rider Survey
Related Trends