Menu
Click to display menu
Share
Click to display social links
Climate Change
There is broad consensus that climate change will alter the natural environment, economy, and quality of life in Minnesota over the next century and beyond, though specific impacts remain uncertain. Increased temperature variation, precipitation levels, and frequency of extreme weather events are expected to stress the transportation system's design, construction, maintenance, and operations; generally increasing the lifecycle costs of infrastructure. To maintain security and enhance financial efficiency over the next 20 years, it is critical to consider climate vulnerability in transportation planning and investments.
Climate Change in Minnesota
While climate change is a global phenomenon, its effects have been particularly acute in Minnesota, where annual average temperatures have risen two degrees over the past century 25 percent more than the global average, and up to three degrees in the northern part of the state. Within the U.S., Minnesota's winter temperatures have risen more than that of any other state over the past 40 years. The most dramatic temperature rises in Minnesota since 1895 have occurred in the months of January (2.5-4.5˚F degree rise), February (5-7˚F degree rise), and March (3-5˚F degree rise). Figure 1 shows the average annual temperature in Minnesota back to 1895. In addition to greater temperature rises, Minnesota has experienced more large storms.
Figure 1: Minnesota's Average Annual Temperature, 1895-20141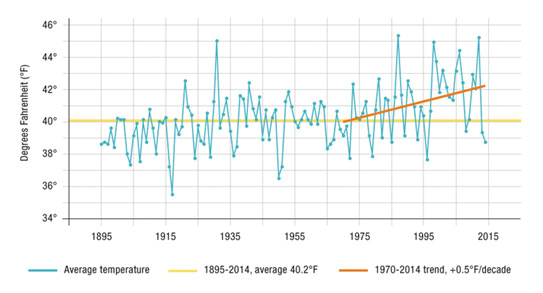 Minnesota's ecosystems are particularly sensitive to a changing climate.2 Species at the edges of these ecosystems will be most vulnerable to climate change.
To counteract the impacts of a changing climate, Minnesota must work to adopt strategies that focus on adaptation and mitigation. While these two concepts are commonly thought of in the same light, they have distinct meanings. Adaptation focuses on building resilience and reducing the vulnerability of systems, while mitigation focuses on reducing greenhouse gas emissions to limit the severity of effects brought about by climate change.
Emissions Projections & Mitigation
Figure 2 shows historic emissions from the transportation sector in Minnesota in addition to projected future emissions. While emissions are trending downward, the pace of decline is not enough to meet the targets set as part of the Next Generation Energy Act of 2007. Reducing emissions from the transportation sector will require improvements in efficiency from motor vehicles, encouraging the use of transit and high-occupancy vehicles, and non-motorized transportation options.
Figure 2: Past and projected transportation emissions in MN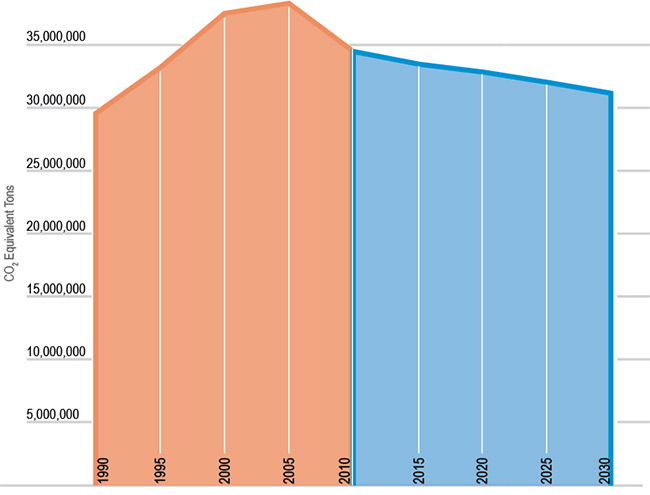 Adaptation
By taking actions to reduce vulnerability and build system resilience, adaptation can reduce the impacts of climate-related stresses (long-term trends that increase vulnerability) and shocks (extreme events). Adaptation considerations can be incorporated into asset management, long range transportation planning, design and construction, operations and maintenance, and emergency management. Adaptation is usually informed by vulnerability assessments, though the two are distinct processes.3
Measuring Risk & Vulnerability
Understanding the ways that a system is vulnerable to the impacts of climate change informs what adaptive strategies will be most beneficial.
CLIMATE CHANGE IMPACT
CONFIDENCE IN CHANGE IN NEXT 20 YEARS
EFFECT TO TRANSPORTATION SYSTEM
Heavy precipitation / flooding
Very High

Damage to highway and rail infrastructure, airport runways
Overtopping roads will slow operations and performance

Warmer winters
Very High

More ice
Reduced pavement conditions and life cycles
Downed power lines with ice storms

New species ranges
High

Changes in roadside vegetation mixes
Soil erosion
Increase in invasive species populations
Increased exposure of construction and maintenance crews to vector-borne diseases

Drought
Medium

Reduced river navigability for barges
Stress on roadside vegetation, which may reduce rainwater storage and increase soil erosion in the long term

High heat
Low

Pavement and rail buckling
Vehicles overheating
Electrical system malfunctions
Limitations on construction hours

Wildfires
Unknown

Road closures
Immediate and significant threat to human safety
Damage to roadside infrastructure
MnDOT completed a Flash Flood Vulnerability and Adaptation Assessment pilot project in early 2015, focused on Districts 1 and 6 in the Northeastern and Southeastern parts of the state, respectively. The project assessed the vulnerability of bridges, culverts, pipes, and roads along streams to flash flood events — one of the most likely impacts of climate change in Minnesota. An example of the assessed vulnerability of Minnesota's transportation assets from District 6 can be found in Figure 3. Tier 1 assets are most at risk of failing due to heavy precipitation and resulting flooding.
Figure 3: Asset vulnerability in MnDOT District 6
CITATIONS
1. FHWA Assessment of Incorporating Climate Change Adaptation Measures into Transportation Projects, 2013
2. Climate Change in Minnesota: an MPR News Special Report, 2015
3. 2015 Air Quality Report to the Minnesota Legislature
Related Trends