Menu
Click to display menu
Share
Click to display social links
Minnesota's Aging Population
Minnesota's population will age significantly over the next 30 years. Currently, Minnesota is home to many people over the age of 65; 13.3 percent of the state's population in 2013. The number of seniors will continue to grow until 2035, when there are projected to be more than 1.2 million seniors in Minnesota (Figure 1). For the first time, more Minnesotans will be older than 65 than under 18. Additionally, seniors in Minnesota will be spread out across the state in urban, suburban, and rural settings.
Figure 3: Minnesota's Population Over the ages of 65 and 751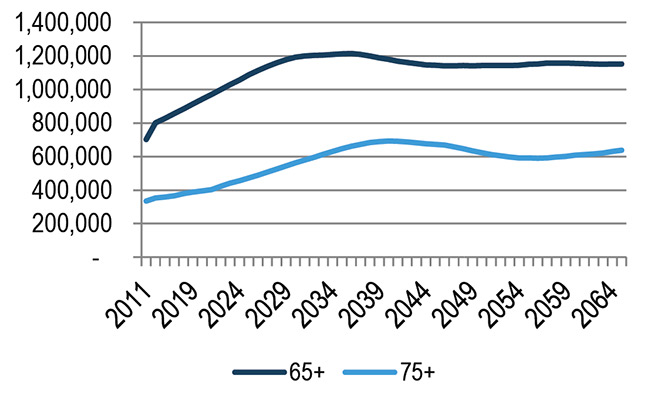 Senior Transportation Challenges
Mobility
Mobility plays a large role in quality of life. Seniors who have a hard time getting around are less likely to go to community events, visit friends or family, shop or go to appointments. In 2009, seniors between 65 and 84 took roughly 90 percent of their trips by car, most often as the driver.2
Affordability
Affordability can be an issue for seniors and transportation providers. Senior incomes are generally fixed, making predictable transportation costs important, especially for those who are transit dependent.
Safety
Safety is also a key component of quality of life for seniors. Safety concerns might relate to a variety of issues, including a fear of driving at night, anxiety when using transit for the first time, and worries about uneven and icy sidewalks. Connections between modes can also be challenging due to poor information sharing, signage, or infrastructure.
CITATIONS
1. Minnesota State Demographer Population Projections
2. Rosenbloom, 2009
Related Trends