Menu
Click to display menu
Share
Click to display social links
Mobility As a Service
New companies have encouraged people to re-think how they use transportation, especially in urban areas. The emerging idea of mobility as a service offers new options in the realm of the "sharing economy." In Minneapolis and Saint Paul residents might utilize car-sharing services like Zipcar, HOURcar, or Car2Go in addition to having a subscription to the Nice Ride Minnesota bicycle-sharing system, using on-demand ride services like Uber, Lyft, or iHAIL, or traditional taxi and transit services. The competition between services and modes creates additional choice for travelers, resulting in the perception of transportation as a service to be purchased.
Car Sharing
Two basic types of car sharing exist in Minnesota. The more traditional car sharing model involves shared vehicles that are parked at a designated location, are reserved by members for a set amount of time, and are returned at the end of their reservation. Zipcar and HOURcar operate under this model in the Twin Cities, Mankato, and Winona. Car2Go presents an alternate model that allows members to drive a car from nearly any public parking spot in Minneapolis or Saint Paul to another, leaving the car for another user to pick up.
Bike Sharing
Nice Ride Minnesota is the largest bike-sharing operation in Minnesota, with bicycles available in Minneapolis, Saint Paul, and Bemidji. Ridership on the Nice Ride System has grown dramatically since 2010, as is shown in Figure 1.1 Other communities in Minnesota like Willmar and (need other yellow bike city) have implemented informal bike-sharing systems using donated bikes that are available to any member of the public for use on the honor system.
Figure 1: Number of rides taken using Nice Ride Minnesota, 2010-2014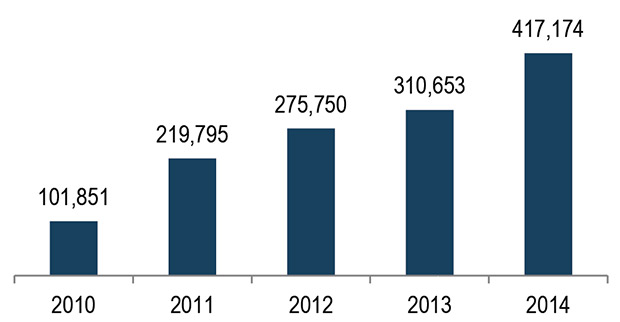 Ride Sharing
Recent years have seen the emergence of ride sharing services like Uber and Lyft that recruit people to pick-up and transport people using their personal vehicle. Uber and Lyft essentially operate as a taxi service, though riders "donate" to drivers as a way to exempt these companies from taxi regulation. Ridesharing companies have begun to offer shared van and senior focused services to further expand their business. These companies are seen as extraordinarily valuable; Uber was recently valued at $50 billion.2 iHAIL, an app developed by traditional taxi service providers in the Twin Cities to counter the advantages that Uber and Lyft have in mobile platforms.
Unanswered Questions
Many questions remain unanswered about how mobility services will evolve in the future. Currently, it is not uncommon for a person to use anywhere from 3 to 5 mobility services, and brand loyalty seems to be easily trumped by convenience or price at this time. Compatibility between membership services will be an interesting area to watch. The future impact of autonomous vehicles on this space also has the potential to make these services even more disruptive to transportation systems as we know them today. The way that people get around in Minnesota's urban areas is changing rapidly, and will continue to change as these services grow and evolve.
CITATIONS
1. Nice Ride Minnesota
2. Wall Street Journal, 2015
Related Trends